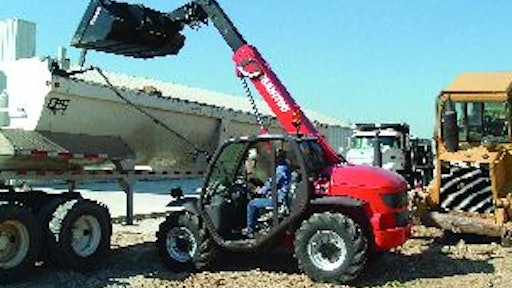 When compact telehandlers moved from Europe to make their North American debut, landscapers and farmers/ranchers quickly latched onto them. And while still extremely popular in both of those industries, they have also gained more acceptance and respect on construction jobsites.
In fact, compact telehandler sales are one of fastest growing segments in the U.S. construction market, says Brian Boeckman, product parent, North American Telehandlers, JLG Industries, Inc. "We believe they offer an efficiency factor to the jobsite because they can do so many jobs," he states.
While contractors in markets such as masonry and concrete jumped on the bandwagon most quickly, manufacturers indicate the machines' versatility is making them popular in many other applications, as well, including parking garages, multi-story construction, steel erection and framing. And until the recent market crash, many jobs in residential housing were being completed by these compact machines.
"They were used heavily in residential construction," says Eric Brown, product specialist, Bobcat. "But there are a lot of jobs these machines can do on other construction sites."
"Compact telehandlers are highly flexible jobsite machines that can do a broad array of work," agrees Jeff Goulait, Terex AWP senior product manager. "The smaller machine dimensions enable telehandlers to work in structures that telehandlers were previously unable to support."
Ryan Ford, product specialist, Manitou, adds, "Compact telehandlers can do about 85% of the work on a jobsite. About the only task they can't complete is to place materials at great heights. In general, it will be one of the first machines to arrive on a jobsite and one of the last to leave, because there is always a need for moving material in and out."
A compact alternative
Essentially, compact telehandlers fulfill the same role as their larger counterparts, indicates Goulait, but with a slightly lower load capacity.
"Telehandlers unload trucks, place materials at height and continue to be the workhorses of the jobsite," he says. "The primary benefit of the compact telehandler product line is access. The more compact dimensions allow these telehandlers to work in confined locations where other telehandlers are unable to go. [They] are helping to finish jobs in an easier manner than the previous alternatives." Such alternatives include rough-terrain masted forklifts, larger telehandlers and, in some cases, manual labor.
Compacts have an advantage over a forklift because they can lift to the same height, plus have the added benefits of four-wheel steering and a telescoping boom, Ford points out.
"The nice thing about a compact telehandler compared to a straight mast forklift is that you can unload both sides of the truck from one side, because you can reach across the bed to grab a load on the other side of the truck," adds Boeckman. "We're seeing a lot of them on larger jobsites. They will use a compact model as a yard machine to load and unload materials."
Compact machines have the upper hand over their larger brothers for working in tight spaces due to their more petite physical dimensions, as well as their shorter wheelbases and tight turning radii. For example, JLG's G5-18A has a wheelbase of 90 in. and a turning radius of 126 in., compared to the next larger model with respective dimensions of 128 and 144 in.
"When you consider major metro areas and how close buildings are to each other, the compacts can get materials into tight spots and low overhead situations," says Boeckman. "These machines are great for dealing with conditions that don't allow for a lot of maneuverability."
Their smaller size also makes them easier to transport. "They aren't as cumbersome as a larger machine, so you don't need large equipment to move them around," notes Brown. "They don't require any special transportation. They can usually be hauled with a 3/4-ton truck and double-axle trailer."
Plus, they are relatively easy to operate via either a single joystick or automotive-style controls with gas pedals and hydrostatic transmissions. "That allows you to easily multi-task," says Brown. "You can raise and lower the boom easily."
Auxiliary hydraulics give you the ability to operate hydraulic attachments, plus manufacturers are continually adding features to enhance attachment versatility. For example, boom float allows the bucket to follow the contour of the ground, which can be a key feature for bucket work.
Taking on the skid steer
Compact telehandlers are commonly compared to skid-steer loaders because of their similarity in size and their ability to utilize attachments such as buckets, forks, augers and brooms. Some compacts can also accommodate universal skid-steer attachments. 
"Compact telehandlers are thought of primarily as lifting and placing machines - and that is their primary application," says Ford. "But contractors are really limiting their abilities if that's all they use them for. Equipped with an attachment, the possibilities are endless."
For example, Ford notes that you can equip the Manitou MT523 with a 1-yd. bucket to move sand, gravel or dirt. "Most skid steers can only utilize a 2/3-cu.-yd. bucket," he says. "A telehandler also travels faster than a skid-steer loader, and it can load full-size dump trucks. As time goes on, we've seen compacts eat into skid-steer loader sales because of the extra reach and lift capacity."
"Contractors are really beginning to view them as attachment carriers," adds Brown. "Most small compacts are built with a two-stage, low-pivot boom, which gives them the attachment capabilities. These machines started as pick and place machines, but because of their ability to utilize attachments, their popularity has grown. They can backfill and do rough grading around a house. Then you can mount a sweeper and clean up a jobsite."
A skid-steer loader has the upper hand when it comes to maneuverability, since it can counter rotate and is a bit shorter in length. And when continuous excavation is required, a skid-steer loader is still a better choice, says Brown.
"A compact telehandler is not meant to be a dedicated excavation machine," he admits. "Structurally, it's not meant to dig all the time. The breakout forces just aren't as high. But you can put a bucket on the front of a compact telehandler and it will dig."
Overall, compact telehandlers have changed the way contractors work and eased the challenges of many jobsites. "These machines are able to do additional jobs and work in spaces where telehandlers were previously unable to go," says Goulait. "The added flexibility allows work to be completed easily and effectively."
"They are definitely construction machines," Ford asserts. "Contractors are realizing the functionality of these machines and are really starting to capitalize on that."