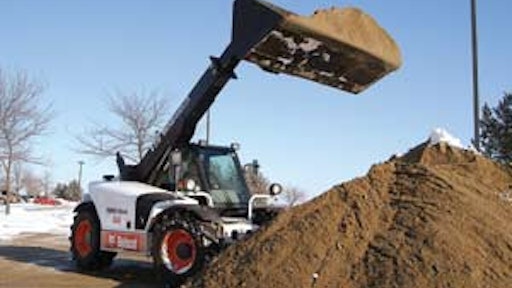 Telescopic handlers have seen quite an evolution in recent years, from strictly lift and place machines to multipurpose tool carriers. Their versatility, maneuverability and lifting capabilities are enabling them to take on an ever growing number of tasks, making them an essential tool on many construction sites.
Following is a look at available telehandler models from most of the major suppliers.
Bobcat Co.
Bobcat offers four telescopic handlers, including the new V638, which provides up to 38 ft. of lift height with a 6,700-lb. rated operating capacity. The V518, V723 and V723 FL models are designed as tool carriers for use with a variety of attachments. Attachments approved for the V518 and V723 include several buckets, angle brooms, a 12-ft. truss boom, pallet forks, auger and grapple fork.
Click here to view PDF version of Bobcat specs.
JLG Industries
JLG compact telehandlers, such as the Model G6-23A (shown), are especially suitable for extended operator time in the cab. The units feature high visibility, an adjustable seat and steering column and standard heater/defroster. Full-size telehandler models are suited for heavy-duty material-handling jobs. They feature four-wheel drive, three steering modes and a single joystick that controls boom lift and crowd. A side-mounted engine and high boom pivot ensure maximum visibility.
Click here to view PDF version of JLG specs.
Genie Industries
Genie Industries announces the addition of a telehandler product line to its family of lifting equipment. Eight rough-terrain models will be offered, including two compact, low-pivot and six high-pivot units. Operating weights range from 9,990 to 31,200 lbs. with maximum lift heights from 18 ft. 10 in. to 56 ft. Maximum lift capacities range from 5,500 to 10,000 lbs. Power ranges from 63 to 125 net hp.
Click here to view PDF version of Genie specs.
Zoom Boom by Carelift Equipment
Zoom Boom telehandlers are manufactured to be versatile, highly stable, productive and inexpensive to maintain and operate. All units provide all-around visibility combined with a safe and ergonomic operator's compartment. Heavy-duty frame and boom designs are standard. Seven models range in capacity from 6,000 to 32,000 lbs. with lifting heights from 32 to 56 ft.
Click here to view PDF version of Zoom Boom specs.
Gehl Co.
Gehl offers a Radio Remote Control System that allows a telehandler operator to control boom functions using a compact, wireless remote control pendant from outside the cab, or from within a personnel work platform. The hand-held, solid-state pendant/transmitter can be used to raise, lower, extend and retract the boom, and start and stop the engine. It is available on all DL Series models with the Personnel Work Platform system, and will soon be available on RS Series models.
Click here to view PDF version of Gehl specs.
JLG Industries/SkyTrak
SkyTrak telehandlers are available with numerous features and attachments for on-the-job productivity. All models include four-wheel drive and steer, +/-10° frame leveling, a four-speed modulated powershift transmission and the Stabil-Trak rear axle stability system. The Model 8042 (shown) has a rated capacity of 8,000 lbs. and a 6,000-lb. capacity at its 42-ft. 11-in. maximum lift height.
Click here to view PDF version of SkyTrak specs.
Liftking Industries
The largest of the Liftking telehandlers are the Dynalugger series with capacities from 12,000 to 30,000 lbs. Six-cylinder diesel engines provide sufficient power through the four-speed powershift transmission to both planetary drive axles. In-cab selection of two-wheel, all-wheel or crab steer allows for added maneuverability. The Traverse Action Boom provides up to 6 ft. of precise load placement control by hydraulically shifting the entire boom forward or reverse inch by inch in a smooth, controlled motion without the need to alter boom extension.
Click here to view PDF version of Liftking specs.
Caterpillar Inc.
Caterpillar telehandlers are equipped with a single joystick control capable of three simultaneous boom functions for ease of operation and operator efficiency. The machines are powered by Caterpillar engines. Three steering modes offer greater maneuverability. A wide range of work tools includes buckets, hoppers, brooms, carriages, lifting hooks and forks.
Click here to view PDF version of Caterpillar specs.
Ingersoll Rand
The VR-843C telescopic material handler delivers an 8,000-lb. lift capacity, 43-ft. lift height, 28-ft. forward reach and 2-ft. 10-in. reach below grade. Power is supplied by a 110-hp Cummins QSB4.5 turbocharged, Tier II engine. The hydraulic system provides greater load control throughout the boom lifting range, resulting in accelerated telescopic action. Built-in cushioning at the end of the lifting sequence allows the load to be placed and transported with greater smoothness.
Click here to view PDF version of Ingersoll Rand specs.
JLG Industries/Gradall
Gradall telehandlers incorporate rear-pivot steering for greater maneuverability around the jobsite. The feature enables the machines to pivot around tight corners while keeping the fork and load inside the tight turning radius at all times. Inching big loads onto exact placements further enhances efficiency and productivity. The Gradall Model 544D (shown) provides a 10,000-lb. lift capacity and a 55-ft. maximum lift height with stabilizers deployed.
Click here to view PDF version of Gradall specs.
Pettibone
Pettibone manufactures two lines of telehandlers, the Extendo and Traverse series. The Extendo is a fixed-pivot machine with lift capacities from 6,000 to 10,000 lbs. and lift heights from 36 to 56 ft. The Traverse model offers lift capacities from 6,000 to 8,000 lbs., lift heights from 36 to 44 ft. and 70 in. of horizontal boom transfer. The entire line features GPS, Constant Pressure Compensated Hydraulics, access under an 8-ft. door and axles optimized for four-wheel steer.
Click here to view PDF version of Pettibone specs.
Mustang Mfg.
Mustang's telehandler product line consists of six models ranging in rated lift capacities from 6,000 to 11,000 lbs. Maximum lift heights span from 34 to 55 ft. The units have a rugged boom design that ensures added durability. Features include pilot-operated joystick controls, a tilt cylinder, optional Work Platform Safety System and the recently introduced radio remote control boom option.
Click here to view PDF version of Mustang Mfg. specs.
JCB Inc.
JCB's compact telescopic handlers are designed to work with many popular attachments, and can be outfitted with a quick attach for easy attachment changes. The units come with a ROPS and FOPS, as well as a clean, automotive-style cab with full suspension seat and 360° visibility. A single joystick raises and lowers the boom and controls attachment rollback and dump. The 524-50 and 527-55 offer three steer modes, while the 520-40 provides a four-wheel-drive/four-wheel-steer combination.
Click here to view PDF version of JCB specs.
TEREX
At 6 ft. 7 in. wide and 6 ft. 11 in. high, the compact yet rugged TEREX TX-6622 telehandler maximizes mobility and maneuverability in tight-access areas, yet delivers the power to tackle rough terrain and heavy lifting applications. A variety of attachments are available to expand work capabilities to match the job, whether it's lifting, moving or digging.
Click here to view PDF version of TEREX specs.
Manitou
Manitou's Maniscopic line of telehandlers includes 18 models of fixed frame and rotating telescopic forklifts with lift heights ranging from 13 to 68 ft. The smallest in the series is the SLT 415 B "Twisco", touted as the world's smallest telehandler. The series delivers a variety of choices all with built-in versatility.
Click here to view PDF version of Manitou specs.
JLG Industries/Lull
Lull telehandlers feature a horizontal load placement system that can move a load up to 80 in. forward from its retracted position while the machine remains stationary and the boom remains at a fixed angle. This allows for faster, more accurate material placement. The Lull Model 944E-42 (shown) has a 42-ft. maximum lift height and a 9,000-lb. rated capacity.
Companies in this article