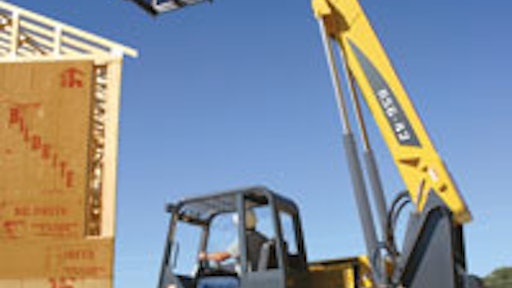 A skid-steer loader can dig more efficiently for longer periods of time, and a full-size telehandler can lift heavier loads to higher heights. But when it comes to doing a combination of both, a compact telehandler is hard to beat.
Compact telehandlers are relatively new to the construction industry, having migrated to North America within the last 10 years. Their heritage can be traced to the agriculture industry in Europe, where farmers used them for everything from cleaning livestock facilities to stacking hay and pulling wagons. For European contractors, they have proven to be essential fleet machines for moving in and around tight spaces and in between close buildings. Since their introduction to this side of the Atlantic, they've been on a roller coaster ride from boom to bust and back again. Today, sales are on the rise, in large part because of the machine's versatility.
"Recently, there has been an upsurge in activity in this market segment," indicates Jay Barth, product manager at JCB. "The whole compact market is really beginning to unfold and heat up. I think we'll see some exciting new features with these machines. A lot of people are now realizing what compact telehandlers can do. They're beginning to see that they aren't toys, but rather fully capable machines."
Operate in tight spaces
The compact telehandler's capability and versatility stems from its design. As its name suggests, it's a small machine' much smaller dimensionally than a large construction telehandler, says Scott Cooper, senior project engineer at Caterpillar.
For example, Caterpillar's TH210 is only 5 ft. 11 in. wide and 6 ft. 5 in. tall. With these dimensions, it can operate in much tighter spaces than its full-size counterpart, including in parking garages and inside buildings that don't have commercial truck doors.
"We see these compact machines in applications where size is critical in industries such as construction, agriculture, landscaping, nurseries and even in rental fleets," says Cooper. "In these applications, large telehandlers may be too large, too heavy or not maneuverable enough to work effectively."
Because they are designed as lifting machines, the compact versions can lift and place materials'although admittedly not to the heights of full-size models, which reach to 42 ft. and beyond. But most compacts will be able to move materials to a height of a two-story building. "Since it is smaller, the physics of the compact machine just don't allow it to lift as high or as much," says Marty Miller, VersaHandler product manager at Bobcat. "But for general contractors, two stories is typically high enough."
Mike Schlauch, Schlauch/Bottcher, Inc., finds that his Gehl RS5 compact telehandlers are a nice complement to his larger units. The custom home builder from Bozeman, MT, has equipped his fleet with three compacts and nine full-size models.
"My smaller machines may not reach as high or lift as much weight, but I would never want to be without them," he says. "They aren't as heavy as my large machines so they don't tear up the ground as much. And I can also use them in lieu of scaffolding for some jobs."
Intended as a tool carrier
While Schlauch uses his compact telehandlers mostly for material handling, he occasionally mounts attachments such as personnel baskets or buckets for loader-type work. This feature is part of the beauty of the compact sizes. Because of its boom design'which is typically two-stage vs. three-or even four-stage'a compact machine can do much more extensive loader work than its larger brother.
"A full-size telehandler just isn't designed to do loader work," says John Koepf, product manager at Gehl. Some manufacturers actually refer to compact telehandlers as tool carriers and tout the many attachments you can use. Some models can utilize attachments directly, while others can connect to essentially any skid-steer attachment via a universal skid-steer adapter.
The fact that many compacts offer auxiliary hydraulics pumped to the front of the machine also makes the use of attachments such as grapples and augers possible. "When you get into the larger machines with three-stage booms, it's more difficult to plumb the hydraulics to the end so you lose some versatility in those larger units," says Miller. "But with the boom design of the compacts, you can more easily utilize hydraulically controlled attachments." "That ability to use skid-loader attachments really opens up the door," adds Koepf. "If you already own a skid loader, you don't have to go out and buy a whole new series of attachments."
A skid-steer replacement?
Some contractors will even use a compact telehandler in place of a skid-steer loader, especially if they need extra reach for tasks such as lifting spoil into trucks or backfilling along retaining walls.
"Contractors who don't have enough height with their skid loaders are moving to a compact telehandler to gain additional reach," says Koepf.
For example, Gehl's 7810 skid loader has a 12-ft. reach. Many compact telehandlers can easily reach to this height and beyond'up to 18 ft. in the case of Gehl's CT6 model.
Scott Rozier, an owner of Rosch Co., is one contractor whose situation exemplifies this dilemma.
He uses a Bobcat V518 compact telehandler for large retaining wall projects in the St. Louis, MO, area. He equips his machine with forks and buckets to lift and place blocks on top of the work zone, as well as move granular materials such as dirt and sand. "In situations where there is no access from the back of the wall, we use the V518 to backfill from the front," he explains. "We have several Bobcat skid steers that we use when we can access the back of the wall, but they just don't have a high enough reach for the larger projects where access is limited."
Koepf also relates that mobility of a compact telehandler is a bit different than that of a skid-steer loader. "With a compact telehandler you don't have the skidding action of a skid loader," he explains. "A compact telehandler has four-wheel steer with a tight turning radius. They're really very maneuverable. When you compare the cost of a compact telehandler with a skid loader, the prices are comparable so it boils down to what features you really need."
More bells and whistles
You will likely find enhanced ergonomics and more creature comforts in a compact telehandler vs. a full-size version. You're also likely to find some noticeable differences compared to a skid-steer loader, including easier entrance into the machine'you can just step into the cab rather than climb over buckets or loader arms.
Many of the differences between a compact and full-size telehandler stem from the fact that full-size models are typically used intermittently during the day, says Eric Brown, VersaHandler product specialist at Bobcat. "A contractor may put on some pallet forks and lift a load three stories high," he says. "Then the machine may sit for three hours. The smaller units tend to get used continuously throughout the day."
Most compact telehandlers will have enclosed cabs with heating and air conditioning, whereas full-size models may just offer a canopy, although cabs and other amenities are available options. Other creature comfort features include boom suspension, which smooths out the ride. Adjustable steering columns and seats, servo hydraulics and single-handed joystick controls are additional features typically offered as standard equipment on today's compact models.
Visibility will also be improved on a compact unit. "Compact telehandlers will have a low-profile boom so visibility around the machine will be better," relates Brown. "That's definitely an advantage when using attachments. The full-size models have a higher profile boom for visibility when the boom is in the air because that's how it will be used much of the time."
Because compacts are typically owned rather than rented, enhanced ergonomics become important to owner/operators who want to work in comfort. Many contractors also feel they're an advantage in boosting productivity for employees. "Typically, comfort equates to productivity," says Miller.
Companies in this article