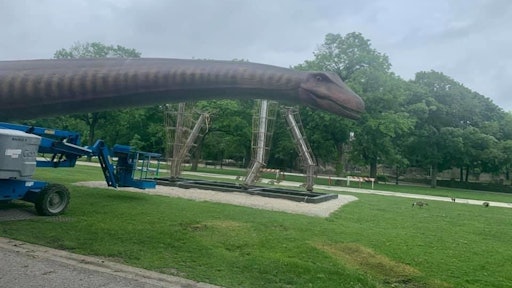 CE Rentals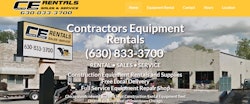 An exhibit of epic proportions with realistic and life-size dinosaurs will go on as planned at Brookfield Zoo, Brookfield, Illinois, thanks to the heavy-duty equipment and one-stop consulting and project management provided by Contractors Equipment Rentals (CE Rentals), Elmhurst, Illinois, including the use of telehandlers and industrial grounds protecting surfaces throughout April and May to unload the huge exhibit.
On loan from Dino Don and created by "Jurassic Park" advisor Don Lessem, the exhibit features 46 full-sized robotic dinosaurs, including the world debut of the largest dinosaur that ever lived, a 120-ft.-long Argentinosaurus. 
"It's the largest accurate robotic dinosaur ever assembled," says Lessem. Sneak previews of the dinosaurs are on their social media channels, including Instagram, Facebook, and YouTube. 
"I can't tell you what a thrill it is to be a part of bringing a world-class exhibit like this to our hometown zoo," says Robert Sloan, owner of CE Rentals. "Yeah, we're known for having excellent, affordable rental equipment inventory with free local delivery, but to be able to serve the Brookfield Zoo 'at such a time as this' is meaningful to us — not prehistoric, just historic, given everything we've all been through this year."
Massive, prehistoric-looking heads, bodies, and limbs were lifted from more than 14 truck trailers and staged across an empty parking lot, later to be hauled into their temporary "wilderness" habitats and assembled for the enjoyment of the Chicago-area public. 
The exhibit seen at the Bronx Zoo in 2019, as well as the Jacksonville Zoo this year, is currently scheduled to open at the beginning of July without a hitch because CE Rentals was in the right place at the right time with the right resources.
Dave Gordon, field sales representative, CE Rentals, made a connection last summer with Ron May, BZ manager of exhibits, to demonstrate a pothole-patching product, for which CE Rentals is the sole Illinois distributor. While the zoo's budget didn't have room for the AquaPatch solution, they later called on CE Rentals for the critical mission of lifting a 2-ton rhino. CE Rentals referred the zoo to Randall Industries, also in Elmhurst, to provide the larger telehandler required. Once that mission was accomplished, CE Rentals was the first place May called when the dinosaur exhibit was ready to move into place early in March. 
Gordon also helped the dino exhibit staff find local welding resources, as well as procure a nearby massive crane able to hoist one especially portly 30-ton species.
"They thought they were going to have to tear down some fencing in one spot to get one dinosaur positioned correctly," says Gordon. "It would have cost an extra $8,000 to take the fence down and then reinstall it. I could see a way where they didn't have to go to that extreme — with a little turning while they moved forward, we got the big parts in place, and saved a large sum of money in the process."