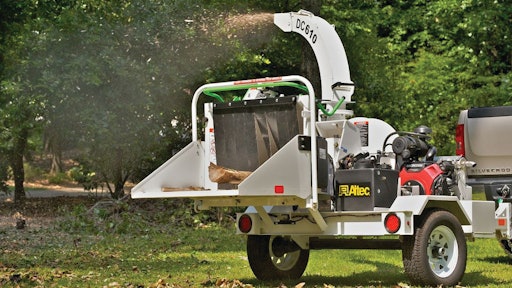 Altec Industries formed a strategic partnership with Compact Power Equipment Centers (CPEC) to offer Altec chippers in Home Depot Tool Rental stores across the nation and in Canada. Since 2008, CPEC has provided customers with towable rental equipment for a variety of projects, which now includes Altec's DC610 chipper.
"This partnership with CPEC represents a significant milestone as we continue to expand our environmental product offerings," said Tony Gann, Regional Vice President of Altec Industries. "Our new DC610 chipper creates a great opportunity for our products to be used by a new segment of customers."
"The DC610 is a valued addition to our product mix at The Home Depot. Safety and productivity are engineered into every aspect of the machine," said Andy Lewis, Director of Marketing for Compact Power Equipment Centers. "The ease of serviceability enables rental readiness by alleviating downtime."
Altec's DC610 will be available in approximately 50 locations of The Home Depot in the U.S. and Canada, with a 2012 expansion goal of more than 50 additional locations. A full list of Compact Power Equipment Centers with Altec rental equipment is available online at www.CompactPowerCenter.com/Locations.
Altec is an equipment and service provider for the electric utility, telecommunications, contractor, and tree care markets. The company provides products and services in more than 100 countries throughout the world.
Compact Power Equipment Centers rent and maintain equipment, including mini-skid loaders, aerial equipment, loaders, mini excavators, trenchers, aerators, chipper shredders and stump grinders to Home Depot locations throughout the United States and Canada.