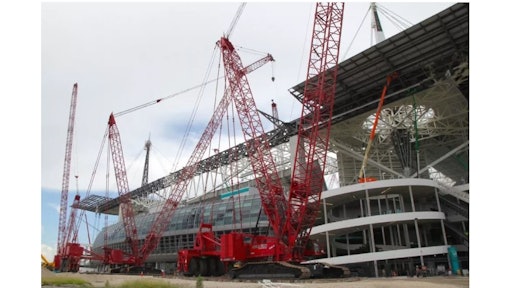 Maxim Crane Works
Maxim Crane Works, the fifth-largest rental company in North America, will acquire Shaughnessy & Ahern Crane Co. and S&A Cranes. The Shaughnessy Companies are one of the oldest providers of crane rental and related lift solutions servicing the Boston Region.
Maxim's acquisition of Shaughnessy expands its operations in one of the nation's most critical regions and enhances Maxim's nationwide crane rental and lifting solutions.
Following the closing, Maxim will begin integrating Shaughnessy Companies with its existing operating business. Maxim says it is committed to continuing to provide the same quality service they have come to expect. The Shaughnessy Companies team and customers will gain access to Maxim's coast-to-coast footprint, engineering expertise, operated rentals and heavy-haul services.
"The Shaughnessy Companies offers one of the most experienced teams of crane professionals in the region," said Bryan Carlisle, CEO of Maxim. "Their state-of-the-art fleet provides customers with a 'best in class' brand of products, parts, services and rental equipment. We are confident that the combination of the Shaughnessy Companies and Maxim will bring added value to our combined customer base, employees and the industry."
Paul Preziosi was named vice president of the New England region for the combined S&A and Maxim operations.
"Our teams have always had a great working relationship. This combination will ensure our customers that we can continue to provide the rigging, storage and crane related services needed to support the robust growth in our New England market," added COO Frank Bardonaro. "It is an honor to work with the Shaughnessy family and team and to continue their 100+ year legacy into the next generation of leadership."
Founded in 1916, Shaughnessy Companies, with corporate headquarters in Boston, MA, services customers throughout the Boston area and Northeastern United States with its fleet of cranes ranging from 15 to 275 ton capacities and a supporting truck fleet.
The Shaughnessy purchase is the fifth significant Maxim Crane acquisition since Maxim and Amquip were acquired and combined by investment funds affiliated with Apollo Global Management LLC in May of 2016.
Founded in 1937, Maxim is one of the largest lifting solutions businesses in North America. Maxim, with its affiliated companies, serves more than 10,000 customers through its fleet of over 2,600 cranes and 56 branches. Maxim's suite of lift solutions include operated and maintained cranes, bare rental cranes, heavy haul / rigging services, and value-added advisory services. Maxim offers a full portfolio of cranes used in a variety of end markets.
Companies in this article