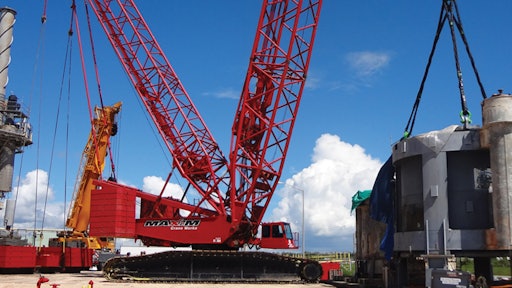 Maxim Crane Rental
Maxim Crane Works will acquire Coast Crane Company, a wholly-owned subsidiary of Essex Rental Corp., in a stock purchase agreement.
Founded in 1970 and based in Seattle, Wa., Coast is one of the largest providers of bare crane rental and related lift solutions servicing the West Coast of the United States. Maxim's acquisition of Coast meaningfully enhances Maxim's full-service, nationwide crane rental and lifting solutions platform and expands its operations in one of the nation's fastest growing crane rental markets.
Maxim will acquire all of the issued and outstanding shares of Coast's parent company, CC Acquisition Holding Corp., for $72.5 million, subject to closing date working capital and other adjustments. The sale has been approved by Essex's Board of Directors and is expected to close in the second quarter of 2017. The transaction is subject to customary closing conditions and the approval of Essex stockholders.
Following the closing, Maxim will begin integrating Coast with its existing operating business. Customers will continue to receive the same high quality service they have come to expect. Through Maxim's coast-to-coast footprint, engineering, operated rentals and heavy haul services, the Coast team and customers will gain access to one of the largest modern fleets of full service lifting solutions in the world.
"Coast Crane offers one of the most experienced teams of crane professionals in the region," said Bryan Carlisle, chief executive officer of Maxim. "Their state-of-the art fleet provides customers with a 'best in class' brand of products, parts, services and rental equipment."
Coast entered into a Fifth Amendment to its Second Amended and Restated Credit Agreement with Wells Fargo. The amendment extends the maturity date of the Coast credit facility to August 14, 2017 and includes certain milestones with respect to the sale of Coast, including receipt of stockholder approval to the sale no later than June 30, 2017.
The stock purchase agreement provides for a "go-shop" period during which the board of directors of Essex may evaluate alternative proposals.
About Coast Crane
Founded in 1970, Coast Crane serves more than 2,000 customers through a network of 11 branches in Alaska, British Columbia, California, Hawaii, Texas, Oregon and Washington. Coast owns more than 200 cranes and is a leading provider of crane and lifting equipment rental and sales, specializing in bare crane rentals.
About Maxim Crane Works
Founded in 1937, Maxim Crane Works is one of the largest lifting solutions businesses in North America. Maxim, with its affiliated companies, serves more than 10,000 customers through its fleet of over 2,000 cranes situated in 46 branches. Maxim's full suite of lift solutions include operated and maintained cranes, bare rental cranes, heavy haul/rigging services, and value-added advisory services. Maxim offers a full portfolio of cranes used in a variety of end markets.