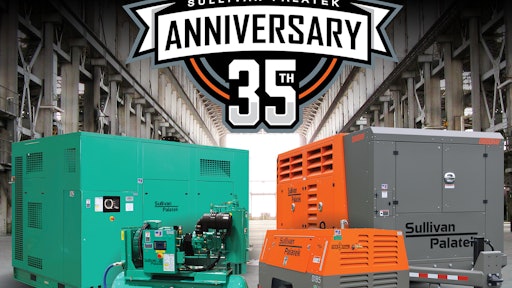 Sullivan-Palatek is celebrating a major milestone with its 25/35 anniversary. 
What does 25/35 mean? Ask anyone from Sullivan-Palatek, and they are beyond excited to share what it means to them and the entire compressed air industry.
Thirty-five years ago, the landscape of compressor manufacturing in Michigan City, Indiana was drastically changing forever. Several employees had left compressor giant, Sullair, at the same time and started companies like Vanair Manufacturing, Boss Industries, and Dekker Vacuum Company, which are all thriving companies headquartered in Michigan City to this day. One of those individuals that left was former Sullair President Donald Hoodes, one of the original founders of Sullair. Following his departure, Mr. Hoodes and former Sullair employee, Paul Laesch, were looking to start their own compressor manufacturing company, and so Palatek was born (Palatek derived from the name Paul Laesch Technologies).
Ten years later, in July, Palatek was purchased by GHS Corporation. Under GHS Corporation, Palatek continued to grow and looked to expand its product offerings and manufacture their own air ends. In 1998 GHS Corporation purchased Sullivan Industries, a New Hampshire company with a long legacy of building diesel powered portable air compressors. That year would be the beginning of Sullivan-Palatek, and the start of a journey that would lead to incredible growth and diversification. Today Sullivan-Palatek boasts an incredible manufacturing facility, more than 185 employees, a booming oem air end division, the one of the widest ranges of industrial electric and portable diesel air compressors in the industry.