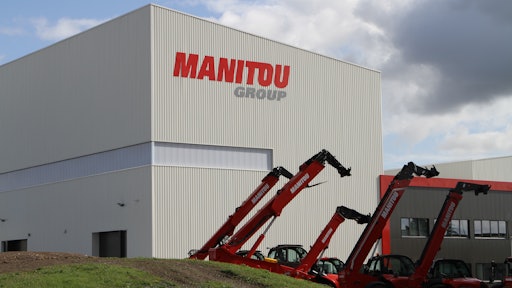 The Manitou Group is inaugurating its latest "Training Center" at its Ancenis site in France. The new structure offers a training environment specifically designed for the machines' clearance that will more effectively address dealers' growing demand for training.
The facility was created specifically to train technicians to maintain, service and repair Manitou Group products. The design of the infrastructure is based on the proximity of the training rooms to the workshops, reducing travel time and improving the technicians' productivity during the various training sessions. Meanwhile, spaces are allocated to the 18 individuals who work in the new area to promote teamwork and the well-being of employees.
In addition to physical training being conducted in its workshops, the Training Center will also offer high performance tools capable of meeting a sharp increase in requests for decentralized training. To meet this demand, the Training Center is equipped with three distance learning rooms and a recording studio.
"In 2018, more than 3,500 technicians received training. 75% of the training was done remotely or at the group's subsidiaries. We are therefore able to group all of the dealers for each region together. To meet this growing demand, we included e-learning spaces for targeted technical updates and spaces to record tutorials to support quality decentralized training activities," Lionel Deneu, Manager of this center, says.