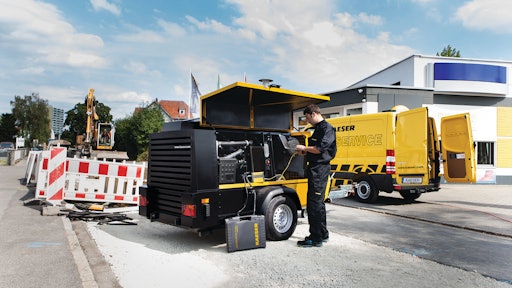 Kaeser Compressors
As with any piece of equipment, a strong maintenance program for your air compressors will ensure a longer life, optimal performance, and happier rental customers. Not only that, but properly caring for them will maximize the time they're available to rent and earn you money. 
Fortunately for rental business owners and fleet managers, these power rental staples don't require a lot of expensive upkeep or time-consuming fixes. However, because of that, it can be easy to forget or neglect them, which makes for a costly oversight in the long run.  
On top of being proactive and committing to a program, it's important to educate yourself about the maintenance cycles of each unit. As I learned writing this article, every manufacturer is different in maintenance requirements, and every job, rental company, and machine is unique. Listen to your customers about potential issues and train your staff to recognize those problems as well. And make sure to document the service history of each unit in your fleet.  
Just ask Tehran Browne, product engineer, Mobilair, Kaeser Compressors, how important proper maintenance can be: "We recently identified a unit with 26,547 operating hours, and the primary reason that the unit is still running today is that the owner follows a strict maintenance schedule for all serviceable parts for the engine and compressor." 
A rental opportunity can occur at any time, so it's imperative that your compressors are operable and ready for delivery as soon as a request comes in. Therefore, developing and following a regimented maintenance routine will help you and your business get the most out of your air compressors.  
Here are some of the top tips for maintaining your air compressors:  
Tip #1: Read the owner's manual. Reading the owner's manual is step number one and the most important. Air compressors differ significantly from model to model, so checking the manual first will make sure you're maintaining it properly for that distinct model's specifications and factory maintenance intervals.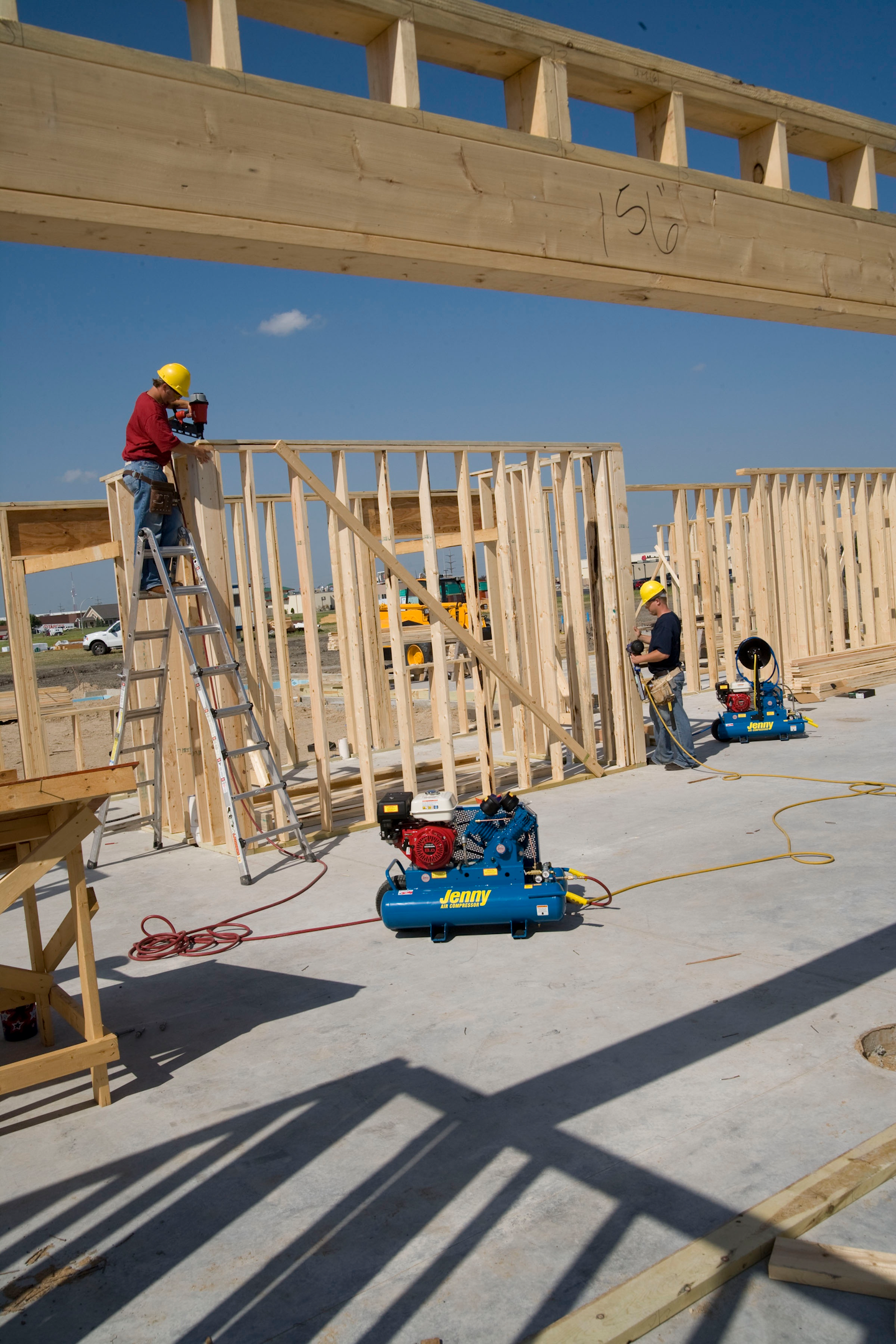 Before each compressor goes out, rental centers should run through their list of basic maintenance checks to ensure the unit isn't returned as nonfunctional, resulting in a lost day's rental.Jenny ProductsThe manual will detail simple tips that will help you get a longer life out of your compressor and will highlight important steps that you might not have known about otherwise. And, as we mentioned, it will talk about specific time intervals where maintenance items need to take place accordingly in order to avoid costly equipment failures or breakdowns.  
While some may think they're smarter than the manual, it's safe to say that your equipment's future will be better off if you take the time to read it. Bryan McCarron, Mi-T-M Air Compressor Division manager, says, "Proper maintenance extends equipment life, reduces unexpected breakdowns, and improves resale value. Good running equipment provides the customer a good experience."  
Tip #2: Daily Pre-Checks. Checking your equipment every day will help you avoid costly equipment failures or lost rentals. It's important to thoroughly check returned equipment for any damage that might have occurred, and you should always doublecheck the in/out process for equipment. When it comes to daily pre-checks, rental owners should do things like check hoses for kinks, inspect electrical wiring for cuts and fraying, examine tubing and piping for damage, and make sure connections are tight. Then, look over controls, gauges, accessories and instruments, making certain there are no loose mountings or damage. 
"Before each compressor goes out, rental centers should run through their list of basic maintenance checks to ensure the unit isn't returned as nonfunctional, resulting in a lost day's rental," says Dan Leiss, president of Jenny Products. "These preventative maintenance checks only take a few minutes, but they can add months or years to the service life of a machine." 
Tip #3: Check Oil Levels. Like your car, many air compressor models feature oil and either a dipstick or an indicator (like a sight gauge) to monitor its levels. And, according to Kaeser's Browne, compressor oil is extremely important to the function of the compressor.  
"Compressor oil lubricates the rotors, seals the rotors to prevent air leakage, and removes heat from the air. One underrated quality of compressor oil is that oil is also responsible for cleaning the air of dust and particulates that make it past the air filter," he says.  
Compressor oil should be checked daily, prior to operation, in order to ensure it is topped off and clean. You should be changing the oil completely if it's contaminated or on an annual basis to ensure maximum functioning. But it's critical for renters or your fleet manager to use the compressor oil specified in the service manual. Browne says, "Compressors are designed with a specific type of oil in mind in regards to heat absorption, and incorrect compressor oil can lead to overheating or potential damage to the compressor rotors." 
Boss Industries has a specifically designed oil called Shieldworks AW that Chuck Hamilton, director of marketing/military sales, Boss Industries, says is unlike any other product. "It's designed to NOT separate the oil and water, but mix it together to move down stream to the filters plus still keep lubrication to the system. Other oils will block the lubrication properties when mixed with water thus creating failures," he says.  
It's also important to use lubricants with the correct viscosity. A high lubricant viscosity might prevent the compressor from coming up to speed fast enough or at all.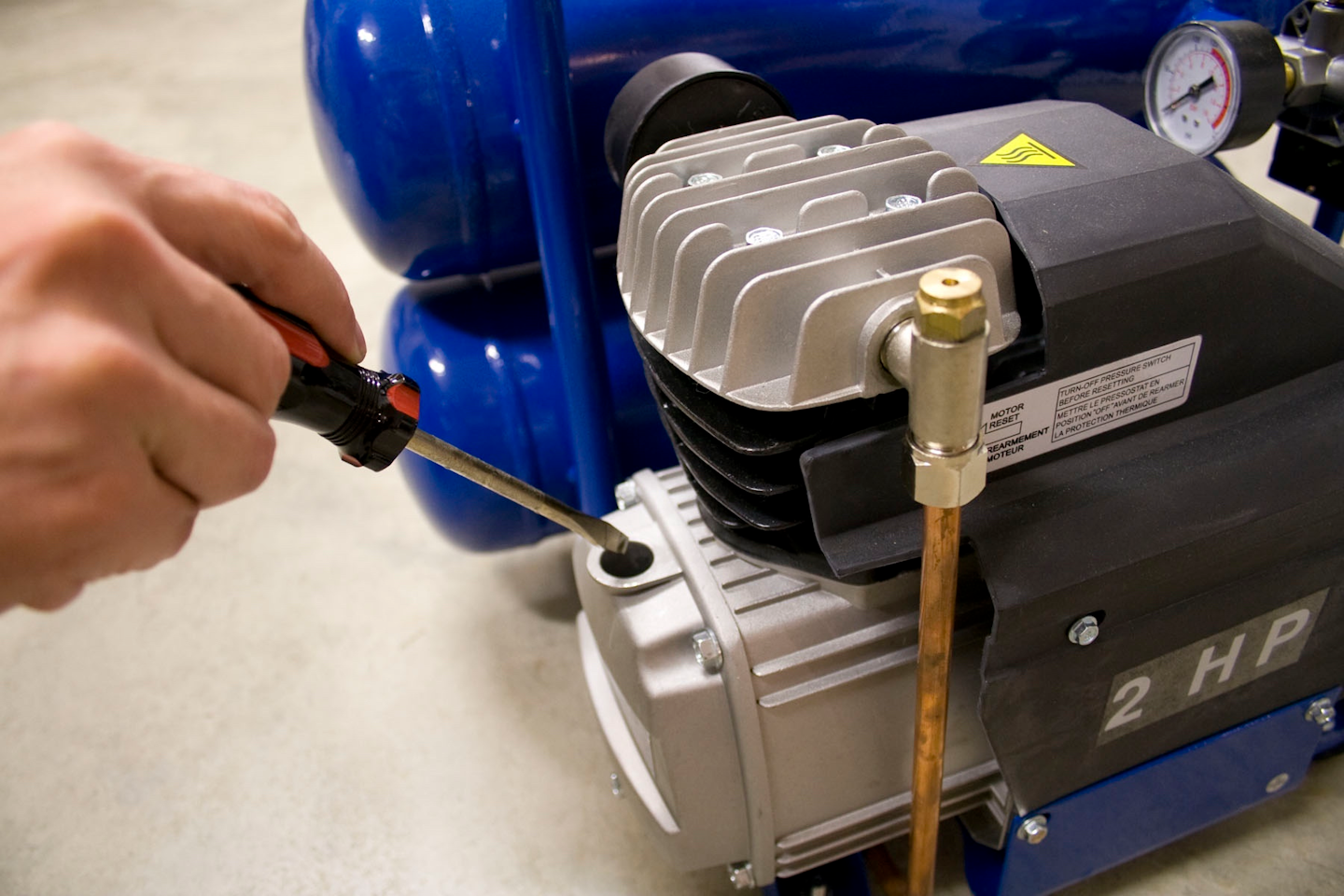 Remove the oil fill plug and check the level, then insert a screwdriver into the crankcase. Inspect the oil on the screwdriver for signs of contaminants, such as water and dirt, and change the oil if contamination is found.Jenny ProductsHigh oil consumption is another potential problem. Leiss says, "This could be caused by a light duty cycle, damaged piston rings or excessive end gap, or a plugged oil crankcase vent. If the compressor becomes excessively hot, check the inlet filter and discharge line filter for dirt and ensure the lubricant level and type are correct."  
A tip from Kaeser's Browne about other fluids: Check the engine oil, coolant, and fuel levels as well as the air inlet filters and fuel water separator. A clogged air inlet filter can lower efficiency and increase operating temperatures. If the filter is lightly contaminated, you can blow it off. If it's deeply contaminated or hasn't been changed in the last year, replace it. The fuel water separator and fuel filters ensure clean fuel is delivered to the engine. If fuel has too much water, it can wear off the lubricants on the fuel injectors. Contaminants can cause wear and tear on the engine and compressor components. So, making sure the compressor has the cleanest fuel possible will keep it running the most efficiently and will prevent unnecessary engine and compressor failures. 
Tip #4: Inspect Air Filter. The air we breathe contains millions of particles of dirt, dust, and other contaminants. These pollutants can become a problem for air compressors, causing valve malfunctions, obstruct lines, or inflict unnecessary wear and tear.  
A filthy air filter ultimately hurts the compressor and forces it to work harder than it needs to, decreasing energy efficiency. Therefore, it's imperative to inspect, monitor, and change air filters. They should be checked for excessive grime buildup every week, changing filters per manufacturer recommendations. This can be every six weeks or 1,000 to 2,000 operating hours depending on the model. Environment will also play a factor in this, as depending on the climate, air filters may need to be changed at higher frequency than what's listed in the maintenance schedule. "In high moisture or humid conditions, service might be required more often," says Hamilton.  
This step also ties back to our last tip about compressor oil. Browne says that maintaining quality compressor oil means users should be aware of the conditions of the compressor air intake filters, as well. Therefore, checking air filters and using correct compressor oil are both pivotal steps to proper maintenance of the compressor. 
A tip from Jenny Products' Leiss about air filters: Install the correct type of air filter for the day's work. A standard filter will trap dust particles based on micron size, while a coalescing filter will remove water and oil from the air. For an application like spraying paint, an air dryer should be used with the coalescing filter, so all moisture is removed from the lines. On the other hand, some tools function better with some moisture. When using a nail gun, for example, an operator may want to add oil to the line with a lubricator. 
Tip #5: Drain Moisture from the Tank. Air compressors have a receiver tank, which is responsible for collecting the moisture from the air that accumulates while the compressor is in use. Most tanks have a valve or two for draining this moisture, and your maintenance program should include draining them every day.  
Jenny Products' Leiss says, "At the end of each day, if not more frequently, drain condensation from the air tanks. Begin by disconnecting the power source. If the unit is portable, move it into an inclined position with the drain at the lowest point. Slowly open the drain and bleed the air from the tank(s). When the pressure drops to 10 psi, the valves can be fully opened, and the tank(s) drained. The condensate may contain oil, so it should be collected and disposed of properly." 
The key to this step is to open the compressor's release valve(s) slowly. Opening them carefully helps to prevent scale, rust, or debris from being expelled at a high rate of speed.  
Other important maintenance items for your air compressors include:  
Inspect

 the belt guard and ensur

e

 proper belt tensioning.

Listen for unusual noises or 

vibrations.

Tighten all fasteners

 and bolts.

Check hoses regularly

 and watch for leaks.

Test the safety shutdown system.

Clean the fuel tank.

Clean the heat exchangers.

Check vibration pads.

Check operation of system controls.

Test release valves.
As you can tell, serviceability is an important factor for equipment. Manufacturers like Sullair are working to make that easier for rental businesses, as uptime and utilization are critical metrics for the industry. "Some portable air compressors, like the Sullair 375, now include access (doors) on all four sides of the compressor. This allows a technician ample space to work on the machine and quickly and easily access every component," says Navendu (Nav) Sharma, director of product management, Sullair. 
Some compressor models feature electronic controllers that alert users when maintenance is needed. For example, all 185 cfm and larger Mobilair compressors come equipped with electronic controllers that provide the user with fault messages and service interval reminders for each maintenance item (oil, filters, etc.). The controller will also display battery voltage and fuel level, too. Make sure to check your compressor's electronic controller for any service-related warnings and address them as needed before renting the compressor to your next customer.  
Also, make sure you're maintaining appropriate battery voltage. Low voltage can lead to unexpected errors on an electronic controller. On units without one, low voltage can prevent the unit from starting, which isn't a good look. According to Sharma, Sullair compressors include a battery disconnect to help ensure that battery drain does not occur when the machine is in between jobs or not in use.   
With newer technologies and the digital age of smartphones being more prevalent on jobsites, some companies have turned to QR codes to help with maintenance. For example, Mi-T-M places a QR code on each unit, which will direct the user to the owner's manual for easier reference to service and maintenance questions.  
Performing routine checks, tests, cleanings, and adjustments will help keep your air compressor running smoothly. And a strong preventative maintenance schedule might be the difference between a successful rental or a costly fix. As Mi-T-M's McCarron says, "Equipment is the life blood of the business; keeping equipment rental ready is essential."