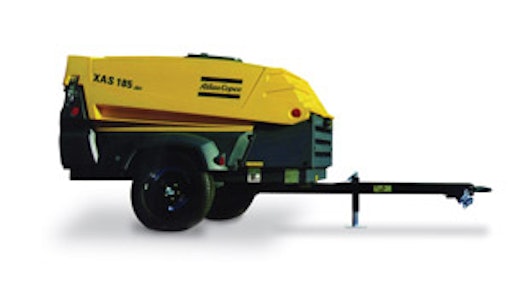 Anything that can go wrong will go wrong and a construction site is no exception. After all, that's why hard hats are required on all construction sites. Now, Atlas Copco has extended that protection to compressors with the introduction of the XAS 185 JD7 HardHat portable air compressor. The compressor features a revolutionary polyethylene canopy - ready to take on Murphy's Law.
The HardHat is ideal for the rental industry because its polyethylene shell is capable of withstanding the harshest environments, resisting dents, rust, corrosion and fading, but also minimizing damage brought on by the daily bumps and bangs received by small equipment. And for the weekend renter, the HardHat can also be towed easily by any mid-sized SUV at a weight of just over 2,000 pounds.
But the durability of the HardHat doesn't stop with the polyethylene canopy. A four-cylinder, 49-hp John Deere diesel engine and Atlas Copco's patented rotary screw air-end generates a guaranteed 185 CFM. Plus, the controls, lights and couplers are tucked away and recessed to minimize the chance of damage. Both the waist-high controls and dual air couplers are at the rear for easy accessibility.
The manageable size of the compressor also lends itself well to construction crews searching for a reliable air source that can be maneuvered easily around congested worksites such as road construction, and the balance of the HardHat also makes it easy and safe for one person to hook up and move about.
Because the polyethylene canopy protects the compressor from damage at the worksite, the HardHat looks better longer. And it's also this tough housing that gives the HardHat a lower cost of ownership, because unlike steel, the side panels and canopy shouldn't need replacing or painting straight through to the day it's rotated out of the fleet.