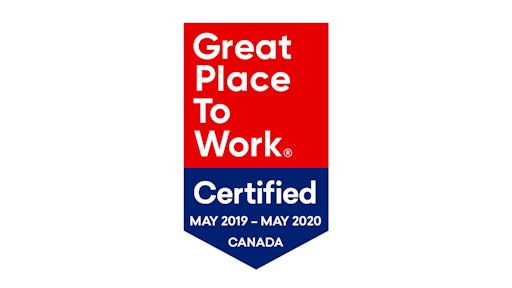 VMAC has earned the Great Place To Work Canada Certification, based on the confidential responses from VMAC's coworkers in a Trust Index Survey.
The Great Place To Work Certification is held by organizations in over 50 countries, and is recognized as the global standard of what it takes to be a great workplace. At the core of every great place to work is a high level of trust that coworkers have in each other and their organization's leaders.
"We're thrilled to be Great Place To Work Certified," says Christina Larsen, VMAC's HR & Special Projects Manager. "This award and certification mean a lot to VMAC, as it was decided by our coworkers who collectively voted that VMAC is a great place to work."
"The VMAC team is outstanding. Following being named one of Canada's Best Managed Companies in March, we're now Great Place To Work Certified," notes Tod Gilbert, VMAC's President. "We can all be proud that the friendly, positive culture, and continuous improvement efforts we put in each day is making a significant impact in the way we feel about being part of the VMAC family."
To become Great Place To Work Certified, a Trust Index Survey is deployed to the organization's list of employees. This survey asks questions focusing on five key dimensions: credibility, respect, fairness, pride and camaraderie, and includes open-ended comments about working in the organization as well. To become certified, 7 out of 10 employees must give positive ratings and there must be enough respondents to ensure a 90% confidence rating. Respondents are guaranteed anonymity by Great Place To Work to ensure an honest and accurate collection of responses.
"I love working at VMAC," says Jesse Pincombe, VMAC Materials Handler. "I've been part of the team for two years and I have had the opportunity to develop my skills and be part of various cross-departmental continuous improvement teams. We work as a team and celebrate our victories together as a family."