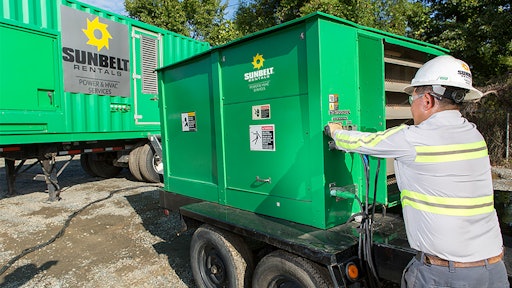 Sunbelt Rentals
While the EPA's Tier 4 emissions were implemented some time ago, that industry turning point is still impacting today's emerging trends in power generation solutions. It has prompted the development of smarter, more versatile diesel-fueled power generators that contractors have come to rely on at their construction sites.
The Tier 4 emissions standards — and additional ones sure to come — continue to drive technology developments toward alternative power systems that will likely change the landscape of diesel generator fleets in the future. Other innovations, unrelated to emissions, have made it easier for contractors to manage jobsite power for optimal performance, safety and efficiency.
With that in mind, several power generation solution trends are making headway in the marketplace.  
1. Machine intelligence and paralleling
The need to right-size generators for the power on a jobsite is critical. More and more, contractors are looking for solutions to provide temporary power while managing fluctuating loads. Paralleling multiple sets of smaller generators ensures that they have sufficient power supply available to handle the on-site load demands — and they prevent service-related issues caused by low-load situations such as damaged exhaust aftertreatment components due to diesel exhaust fluid (DEF) crystallization.
Today's generators feature machine intelligence that simplifies paralleling, allowing for different size generators to be easily connected and share loads based on the relative size of the machine. For example, if one machine provides 1,000 kW of power and another offers 500 kW for a load of 1,500 kW, machine intelligence knows how to adjust the load effectively. That means loads can be shifted back and forth between machines to allow service intervals to take place without fully shutting down the machines, and it gives the appropriate portion of the load to the machine sizes.
Machine intelligence also provides the ability to parallel various sizes, makes and models of generators together to achieve a higher load capacity than one unit. This allows for optimal runtime and load distribution, as well as less fuel waste.
2. Telematics
While not a new concept, telematics is trending toward more sophisticated functioning when it comes to power generation solutions — particularly on generators. Contractors and rental partners can easily monitor the machine's diagnostics and health remotely. This technology allows users to view several machine performance outputs, including but not limited to fuel levels, voltage, hours of usage and at what points that usage peaks or dips. The result is a better end-user experience and reliable uptime as service intervals, service alarms or location usages can be monitored and/or alerted.   
A unique advantage that this technology provides is the insight into whether the machine's load is balanced across phases. It then offers the ability to send alerts if it is not balanced in order to prevent damage associated with operating imbalanced loads.
For example, if a generator is operating with an imbalanced load, there can be catastrophic damage done to the generator end or the load. In this case, an alert through telematics serves as a protective device so action can be taken to remedy the problem.
3. QR codes
As with many other innovations, QR codes on generators are increasing in popularity. They offer contractors the ability to quickly retrieve key operating information including, first and foremost, safety points. Armed with this knowledge, contractors can educate themselves and their employees on the safe operation of the generator along with important features of the machine.
QR codes also provide details on:
Proper generator setup and starting
Diagnostics and troubleshooting
·Simple maintenance steps
This real-time data also provides access to technical assistance and operating manuals.
4. Hybrid power systems
As an alternative to diesel-fueled generators, hybrid power systems operated by high-density lithium ion phosphate batteries have begun to make an appearance in the industry. While not as cost-effective as a standard generator, these systems offer the benefit of creating a net-zero or net-neutral carbon footprint on some jobsites.
Often, the systems operate in conjunction with a traditional diesel generator. When the generator supplies power to a site, the excess power recharges the battery. The generator then switches off, seamlessly allowing the load to be supplied by the hybrid system. When the batteries become depleted or if hybrid cannot support the load, it reconnects to the generator.
Beyond emissions benefits, hybrid power systems reduce jobsite noise (they are silent) and provide fuel savings.
Sourcing power generation solutions
Along with these trends in power generation solutions, many contractors are increasingly seeking out turnkey suppliers for their equipment rental. These one-stop options not only provide equipment but are also capable of assessing jobsites and offering the best solutions.
With demanding project timelines and a competitive landscape, having access to the necessary equipment from a single supplier is a definite benefit. Pairing that with specialized industry expertise can further streamline operations, support safety on the site and help contractors meet deadlines. 
Jason Thompson is senior vice president, power & HVAC and pump solutions, Sunbelt Rentals.