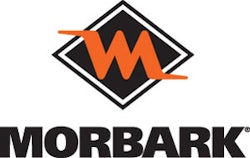 Winn, MI - Morbark is pleased to announce the territory expansion of Newtown Power Equipment. A Morbark tree care products dealer since 1998, Newtown recently expanded its territory to include the entire state of Connecticut. The expansion, effective August 2011, added the remainder of the state to an already well-established territory in southwestern Connecticut.
With excellent product support, as well as an extensive equipment and parts inventory, the expansion of Newtown Power Equipment is advantageous for Morbark customers throughout Connecticut. "We are very impressed with the exceptional service and support that Newtown Power Equipment offers. They have advanced experience and expertise with Morbark products and will be a great asset to customers in Connecticut," comments Morbark Tree Care Products Support Representative Justin Longtin.
Dave Oliger, co-owner and president of Newtown Power Equipment adds, "We are proud to be the exclusive Morbark dealer for the state of Connecticut. We look forward to meeting and working with new customers in the tree care industry, as well as continuing to serve the customers we've done business with in the past."
About Newtown Power
Founded in 1981 in Newtown, Connecticut, Newtown Power Equipment has grown from a specialty shop to one of the largest multi-line dealers in the area. An authorized dealer for many different brands, the company has built its reputation on selling quality products and providing the same quality service to customers after their purchase. 
In addition to Morbark chippers and stump grinders, Newtown Power Equipment carries a complete line of lawn & garden equipment, as well as the area's largest supply of tree climbing & cabling supplies. They also have an extensive selection of parts and accessories and a first-class service department.