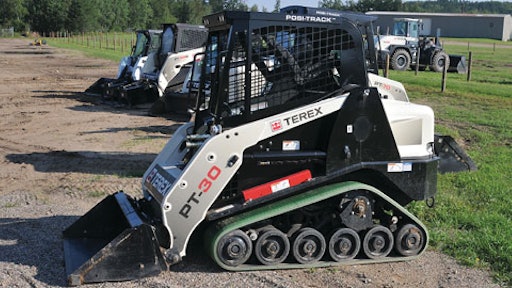 SOUTHHAVEN, MS - Terex PT-30 and PT-50 compact track loaders, TSR50 skid-steer loaders and TC16 compact excavators are available for rent at Compact Equipment Power Equipment Centers (CPEC) located in 280 select locations of The Home Depot Tool Rental. Compact Power Equipment Centers have partnered with The Home Depot, the leading source for home improvement products, to provide commercial contractors with towable rental equipment for many projects.
"This is an exciting opportunity for Terex," says John Poag, director, Rental, Government and Remarketing, Terex Construction. "We are pleased to have the Terex brand presented to customers alongside such well-known, reputable brands as Compact Power Equipment Centers and The Home Depot."
According to Poag, when the partnership between Home Depot and Compact Power Equipment Centers was formed earlier this year, Terex placed equipment in 170 Home Depot locations. Top performing locations include The Home Depot flagship store in Atlanta, GA, as well as stores in Nashville, TN; Rock Hill, SC; Greenville, SC; Fort Worth, TX; Tampa, FL; Dallas, TX; Memphis, TN; and Olive Branch, MS. Both the Memphis and Olive Branch stores are just 30 miles from the Terex Construction operations office in Southaven, MS.
According to Jon Richardson, director of corporate fleet, Compact Power, working with Terex is critical to best serving commercial contractors. "For contractors who are trying to keep their overhead low or need some extra equipment for a big job, our goal is to provide solutions for all of their equipment needs," says Richardson. "This means having the right equipment, like Terex compact track loaders, skid steers and compact excavators, available when and where contractors need it.
"Whether a contractor is looking for a long-term rental contract or simply requires equipment for a few hours," continues Richardson, "our centers are dedicated to providing these customers with excellent service, helpful advice and versatile, affordable equipment solutions for every rental need."
Tony Rust, director, Terex Financial Services – Construction, adds, "Compact Power Equipment Centers provide cost-saving solutions that help contractors focus on bottom-line profitability, while providing quality equipment that customers need to get their projects done. This relationship is yet another way for Terex to best serve contractors' equipment needs."
Compact Power CEO Roger Braswell says, "Compact Power Equipment Centers, stocked with Terex compact construction equipment, are the go-to source for our customers' rental needs. Our goal is to open an additional 300 Compact Power Equipment Centers in the future - our strategic relationship with Terex is very important in achieving this."
Poag finishes, "We look forward to growing this relationship with Compact Power Equipment Centers, and serving more commercial contractors, as it expands into additional The Home Depot Tool Rental locations in the future."
Companies in this article