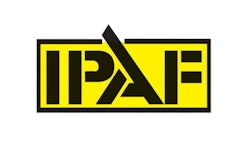 IPAF and its members are working to raise safety standards in the use of powered access equipment in China.
At the BICES exhibition in Beijing this October, IPAF held several meetings with associations and brought its Chinese and non-Chinese members together. This is part of the Federation's plan to boost support to its Chinese and South East Asian members, and work with government to share knowledge of safety issues.
IPAF launched its "Spread the load!" campaign in Chinese during BICES, calling for the proper assessment of ground conditions and the correct use of stabilisers, outriggers and spreader plates. The campaign generated a lot of interest in some of IPAF's first safety messages produced in Chinese, including a video and stickers. The "Spread the load!" sticker is available in eight languages. These resources can be viewed and downloaded at www.ipaf.org
Also launched was the Chinese version of IPAF's successful "Clunk Click!" campaign for the use of full-body harnesses on boom-type platforms.
Raymond Wat, IPAF South East Asia, represents the Federation in the Chinese and South East Asian region. He can be contacted at sea@ipaf.org
Companies in this article