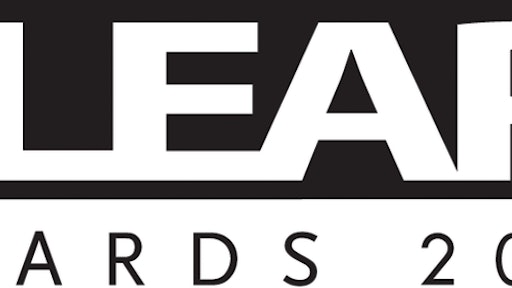 FORT DODGE, IA - The Leadership in Lifting Equipment and Access
Platforms (LLEAP) Awards, presented by Lift and Access magazine, honor innovative products
introduced between April 1, 2010, and March 31, 2011. Judged by a group of nine experts in the
crane, aerial lift, and material-handling fields as well as the six members of the Lift and Access
editorial staff, 22 products in five categories were scored based on their innovation, influence,
leadership, and benefits. These categories include aerial lifts; material handlers; cranes; OEM
features/essential components for OEMs; and aftermarket support products and services.
Ten products received Platinum, Gold, and Silver awards in their respective categories. A
summary of the winners follows.
Platinum
• Terex Crossover 6000 Boom Truck (Original Equipment Manufacturer)
• Eaton LifeSense Hose Condition Monitoring System (Support Products & Services)
Gold
• JLG 1500SJ Boom Lift (Aerial Lift)
• Xtreme XR2450 Telehandler (Material Handlers)
• OEM Data Delivery Multi-Pump Fluid Data Tracker (Aftermarket Support Products or
Services)
Silver
• Skako Lift Bluelift BL72 Track-Mounted Aerial (Aerial Lifts)
• Manitou MLT 625 Telehandler (Material Handlers)
• Cargotec Hiab XS 622 Knuckleboom Crane (Cranes)
• Firestone DuraForce MH Tire for Telehandlers (OEM Features/Essential Components for
OEMs)
• TireSocks ForkSocks Fork Covers (Aftermarket Support Products & Services)

Finalists in each category also were recognized for their innovative products. They include the
Genie RT69 scissor lift, Haulotte Compact 3947E scissor lift, JLG 340 AJ boom lift, Palfinger WT
1000 truck-mounted aerial lift, Caterpillar TH514 telehandler, JCB 512-56 Loadall telehandler,
Elliott 36127F boom truck, Sany SRC860XL rough-terrain crane, Link-Belt Pulse operating
system, Perkins 400F diesel engine, HBC-radiomatic Spectrum D radio remote control, and
CasterSocks wheel covers from TireSocks.
Judges
In addition to the Lift and Access staff, the following industry professionals judged the 2011
LLEAP Awards.
Jennifer DuBose-Lombard, Owner, Lizzy Lift Inc.
Michael Harrison Jr., Principal Partner, Harrison Crane Service
Bill Hindman, President, Industrial Marketing Systems
Patrick Hong, General Manager, Genfor Lease Pte Ltd.
Jesse Rodriguez, Regional Manager, Gulf States, Trico Lift
Steve Shaughnessy, Senior International Management Consultant, Copernicus International
Consulting Ltd.
Erika Sims, Vice President of Sales, Sims Crane & Equipment Co.
Jeff Stachowiak, National Director of Safety Training, Sunbelt Rentals
Lance Sullivan, Fleet Product and Service Manager, Sunstate Equipment Co.