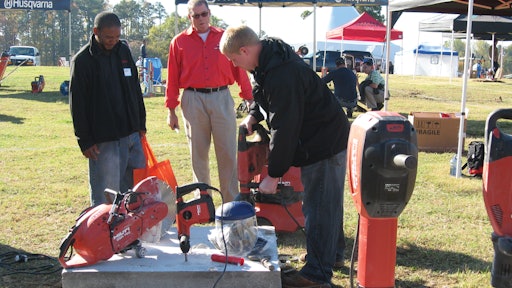 True Value Company and Husqvarna announced the success of the first southeast regional Rental Demo Day event, held earlier this month at BullHorn Ranch in Liberty, N.C. More than 100 suppliers, rental operators and their associates participated in the event, kicking off the buying season and demonstrating a renewed interest in the industry despite the challenging economy.
Participating suppliers introduced the newest features of their 2011-2012 fleet, leveraging the expansive amount of land to demonstrate large digging and earthmoving equipment. Rental operators sought out the opportunity to not only check out the latest in rental products, services and technology, but to also network and exchange ideas with other rental businesses.
"The most worthwhile aspect of the Demo Day was seeing the equipment in action," said Edwin Scott, CEO of TCS Event Rentals in Burlington, N.C. "I asked for feedback from other rental operators and tested out the machinery. Even though I had no intention of buying anything, I wound up spending $40,000 on six new pieces of equipment."
 Rental operators from seven states identified the event as a rewarding opportunity for their associates as well, and brought their staff along for a day of educational sessions and product previews. Through direct interaction with the suppliers, these associates gained valuable firsthand insight about maintenance, operation and safety.
"I took full advantage of the hands-on experience with suppliers that I regularly use – it was fantastic," said Roger McArver, president of Gaston Rentals in Gastonia, N.C.
But Rental Demo Day wasn't all business: Schiller Grounds Care hosted a pig roast, and Warner Shelter sponsored a tent set-up competition, whose winners assembled a 20'-by-20' high peak marquee tent in less than five minutes.
As a result of the positive feedback from the first event, planning is underway for a second regional Rental Demo Day in the Midwest next season.
"The Demo Day was a perfect venue to display our lawn and garden equipment, and party suppliers found creative ways to demonstrate their products, too," said Jody Kerr, national rental sales manager at Husqvarna.
 True Value, one of the world's largest retailer-owned hardware cooperatives, and Husqvarna, the world's largest producer of outdoor power products, hosted the Rental Demo Day together with more than 25 suppliers, including Barreto, Bobcat Company, Haulotte / Bil-Jax, Chicago Pneumatic Tools, Ditch Witch, EDCO, Electric Eel, Genie / Terex, Gold Medal Products, Graco, Ground Hog, Hilti, Magikitch'n / Pitco, Porta-Nails, Q.E.P., Powertek, PRE Sales, Schiller Grounds Care, The Toro Company, Tippmann Sports, Toptec Products, Vermeer Corporation, Volvo Construction Equipment, Wacker Neuson, and Warner Shelter Systems. Also in attendance were rental operators from Grand Rental Station, Taylor Rental, and Just Ask Rental (business units of True Value Company), as well as rental operators from TCS Event Rentals.
Companies in this article