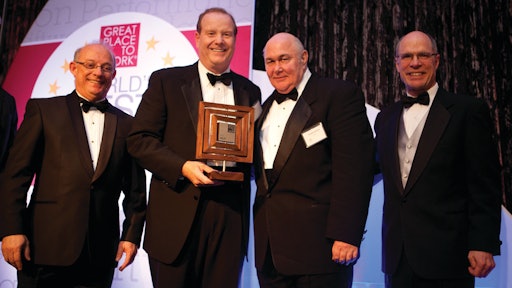 Hilti achieved a top ranking in the Great Place to Work Institute's international best employer survey. This comes on the heels of Hilti having achieved top rankings in both national and European employer surveys conducted by the Great Place to Work Institute.
For the first time in company history, Hilti is ranked among the best employers worldwide by the international Great Place to Work Institute. The announcement was made at an awards ceremony held in New York at the end of October. Hilti placed 15th in the "multinational workplaces" category and was the second-highest ranked European company on the list.
To qualify for participation, companies had to have appeared on at least five national Great Place to Work lists. National rankings are mainly based on interviews carried out with randomly selected employees. Results of these interviews count for two-thirds of the scoring. Questions focus on topics including believability, respect, fairness and team orientation.
After having achieved numerous top rankings at the national level, Hilti Executive Board Member Jörg Kampmeyer finds Hilti's high ranking on the list of international employers to be a very positive development. "The various good rankings achieved by Hilti are largely due to our employees. This solid international ranking is all the more appreciated as a positive signal from our team regarding the course, culture and values pursued by our company."
Companies in this article