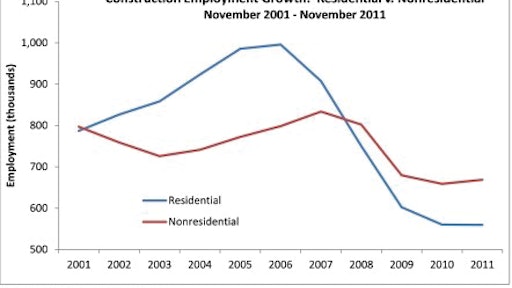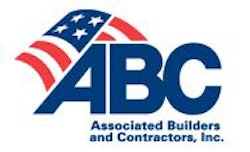 Despite the addition of 17,000 jobs in December, the nation's construction industry unemployment rate jumped to 16 percent last month, a sharp increase from 13.1 percent in November but down from 20.7 percent the same time last year, according to the Jan. 6 jobs report by the U.S. Labor Department.
For all of 2011, the construction industry added 46,000 jobs (0.8 percent) - representing the best industry performance since January 2007. The average annual construction unemployment rate in 2011 was 16.4 percent, down from 20.6 percent in 2010 and 19 percent in 2009.
Nonresidential building construction employment stood at 662,200 jobs in December, down by 3,000 jobs compared to November but up 3,000 jobs (0.5 percent) compared to the same time one year ago. Residential building construction employment stood at 567,000 jobs in December, up by 3,000 jobs from the previous month and up 4,000 jobs (0.6 percent) from the same time last year.
Nonresidential specialty trade contractors added 20,000 jobs in December and have added 12,000 jobs, or 0.6 percent, during the past twelve months. In contrast, residential specialty trade contractor employment decreased by 3,000 jobs for the month but is up by 16,000 jobs (1.1 percent) from December 2010. Heavy and civil engineering construction employment remained unchanged for the month and has added 11,000 jobs (1.4 percent) during the course of 2011.
Across all industries, the nation added 200,000 jobs as the private sector expanded by 212,000 jobs and the public sector shrank by 12,000 jobs. Year over year, the nation has added 1,640,000 jobs (1.3 percent). The nation's unemployment rate fell to 8.5 percent in December, down from a revised 8.7 percent level in November and down from 9.4 percent in December 2010.
"The increase in construction unemployment is primarily associated with seasonal factors and should not be interpreted as evidence of industry decline," said Associated Builders and Contractors Chief Economist Anirban Basu. "Today's employment numbers exceeded consensus expectations of 155,000 jobs created in December. This was the best overall employment performance for the U.S. economy since 1999, when the nation added 294,000 jobs.
"The U.S. economy is enjoying resurgence, one that has begun to encompass the nation's construction industry," Basu said. "Overall, unemployment is now at its lowest level since February 2009.
"As a result, the construction labor market enters the new year with more momentum than has been the case since at least 2007," said Basu. "While major economic headwinds remain, including elevated levels of distressed properties and disciplined lending, the worst appears to be behind the U.S. construction industry.
"However, a cloud continues to hang over a reasonably sunny employment picture," said Basu. "The U.S. labor force continues to shrink. If that were not occurring, unemployment would not have fallen nearly as quickly in recent months.
"Construction spending has been increasing in recent months, led by sustained growth in private construction," Basu said. "Given the sustained progress and emerging momentum of the U.S. economy in recent months, private construction can be expected to continue to expand both in terms of spending and employment going forward."
Companies in this article