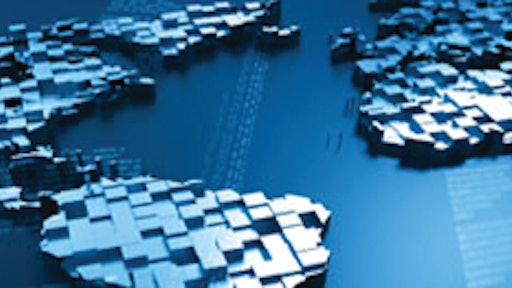 The equipment rental industry outperformed the industries it serves in 2011 and the momentum is expected to carry into 2012 and beyond, according to the latest data released by the American Rental Association (ARA) at The Rental Show in New Orleans.
ARA expects overall North American equipment rental industry revenue to increase at least 6.9 percent in 2012 to total $33.5 billion at year end, based on figures compiled by IHS Global Insight.
The equipment rental industry's forecasted revenue growth in 2012 is more than three times the 2 percent growth in gross domestic product (GDP) forecast for the United States in 2012.
The forecasted rental revenue total includes the three segments of the industry — construction and industrial, general tool, and party and event — in the United States and Canada. The ARA Rental Market Monitor current five-year forecast calls for continued annual growth in rental revenue to reach a total of $53.1 billion by 2016 in North America.
While some of the expected rental revenue growth in 2012 will come from increased demand as the construction industry recovers, the benefits of renting equipment have been magnified in today's marketplace, resulting in more attention and more customers adopting the rental concept to meet their needs for equipment to complete projects and jobs.
Many equipment rental companies, including United Rentals, say they are seeing a "secular shift" in North America as customers — including contractors, construction businesses and homeowners — recognize the advantages of the fixed cost of renting, which also covers maintenance, storage, delivery and more.
As a result of discovering the many benefits of renting equipment, ARA anticipates this growth in rental to continue into the future.
"There is a real opportunity for rental businesses in this industry to gain further market penetration by aggressively selling the value of equipment rental at this point in the economic recovery," says Christine Wehrman, ARA's executive vice president and CEO.
"We're a solutions-based industry that provides services that solve immediate issues when people are dealing with capital availability and downsizing of owned fleet due to economic reasons," she says.
"It is our time, as an industry, to help our customer base succeed in their businesses. We are the catalyst that enables economic growth and allows businesses to recover, employ people and strengthen the economy, whether it is in the U.S., Canada or globally," Wehrman says.
Many ARA members agree with this assessment. More than 96 percent of those responding to ARA's January 2012 Economic Survey of members in North America said they expect annual rental revenues in 2012 to at least equal 2011 with 85 percent expecting an increase and more than 37 percent expecting double-digit revenue growth this year.
A wide majority of survey respondents — 71 percent — also expect annual new rental equipment purchases in 2012 to be more than 2011 with more than 32 percent expecting double-digit increases in spending. Overall, more than 94 percent of the respondents expect to buy at least as much new rental equipment as they did in 2011.
"The buying expectations of our members match the anticipation about The Rental Show in New Orleans this year. We've already surpassed last year's registered attendee figures and the exhibit space is sold out," Wehrman says.
"The increased growth and interest in the rental industry also assists ARA in completing landmark projects, such as ARA Rental Market Metrics™, which enhance the professionalism of the industry," she says.
ARA Rental Market Metrics defines methods for calculating and reporting key rental performance metrics, such as time utilization, dollar utilization, fleet age and other important measures.
"The development of these industry metrics, which standardize the methods equipment rental companies use to calculate performance measures, will advance individual businesses and industry performance in a consistent manner," Wehrman says.
Companies in this article