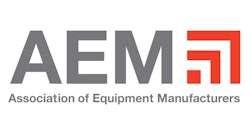 U.S. construction equipment exports increased 43% in 2011 compared to the previous year for a total $23.5 billion of machinery shipped to other nations, according to the Association of Equipment Manufacturers (AEM). This follows growth of 28% in 2010 after a 2009 decline of 38% in the depths of the recession.
"Export sales continue to help U.S. construction equipment manufacturers stay open for business and sustain American jobs, especially with the domestic construction sector still recovering," stated Al Cervero, AEM vice president construction sector.
AEM and its I Make America campaign have pushed for export-friendly policies that create and sustain American jobs. These include free trade agreements such as the U.S.-Korea FTA being implemented, which will eliminate export duties on about 80% of U.S. industrial products and about 67% of U.S. farm-related products.
In recent AEM action, the association is calling for congressional reauthorization of the Export-Import Bank, with an increased exposure cap so more companies can benefit from its services. Ex-Im Bank is self-sustaining. It focuses on small to medium-size businesses, since private lenders many times are unable or unwilling to extend them financing and insurance support.
Exports by World Regions and Top 10 Countries
Exports to Australia/Oceania led the way in 2011 with a 73% gain as the region took delivery of $2.8 billion of U.S.-made construction equipment. Construction machinery exports to South America increased 39% in 2011 with purchases worth $4.3 billion, and exports of construction equipment to Central America gained 23% and totaled $2.0 billion.
Export sales to Asia grew 44% to total $3.1 billion for 2011, and Africa's purchases of U.S. construction machinery increased 41% to total $1.3 billion last year. Exports of construction equipment to Europe gained 49% for a total $2.8 billion in 2011, and export business to Canada grew 40.5% and totaled $7.2 billion.
The 10 countries buying the most U.S.-made construction machinery in 2011: (1) Canada - $7.2 billion, up 40.5%; (2) Australia - $2.7 billion, up 79%; (3) Mexico - $1.6 billion, up 28%; (4) Chile - $1.3 billion, up 45%; (5) Brazil - $951 million, up 25%; (6) China - $903 million, up 81%; (7) Colombia - $811 million, up 38%; (8) South Africa - $683 million, up 72%; (9) Russia - $652 million, up 96%; (10) Peru - $572 million, up 31%.
Companies in this article