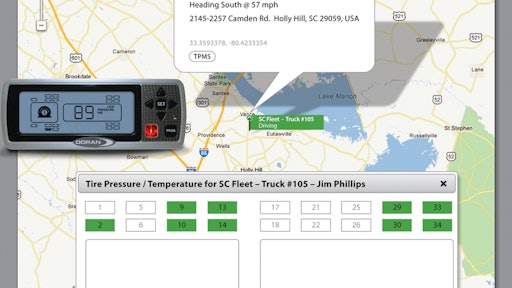 Doran announces it has successfully completed a collaborative integration project with SafetyTrax AVL to provide fleets with a dynamic web-based software application that provides real-time updates for global position and vehicle tracking indicators, along with tire pressures and temperatures for every vehicle in a fleet.
"Due to technological advancements, the need for fleet to rely upon time-consuming, inconsistent and inaccurate gauging or thumping tires to check tire pressures are a thing of the past." says Doran's general manager, Jim Samocki. "The integration between Doran and SafetyTrax, provides a customized, fleet-specific website that offers at-a-glance functionality to view the current GPS location, speed and tire pressures/temperatures in real-time for any vehicle in a fleet."
In addition to the "live look-in" map view, the system also has the capability to send e-mails or text messages with tire pressure alerts to provide additional visibility and minimize the dependence upon drivers to address low tire pressure warnings.
There is also a TPMS current status report that can be scheduled to run daily, weekly or monthly which will show every current tire pressure and highlight specific tires with low pressures.
In addition to TPMS information, the SafetyTrax website also provides a "dashboard" that shows daily mileage, number of stops, engine on/off, idle time, speeding events and average speed for every vehicle in the fleet. It provides a bread-crumb history of events and can also setup to track customizable geo-fence landmark activity, speeding and after-hours use.
The Doran 360 tire pressure monitoring systems are designed for fleets of all sizes and equipment configurations, including drop and hook operations. Installation can be accomplished, without any special tools, in less than an hour. The high-impact nylon, valve-stem mounted sensors, with potting material inside, have passed rigorous SAE tests by an independent a2La accredited testing facility to ensure that they deliver the longest life and corrosion resistance on the market.
Companies in this article