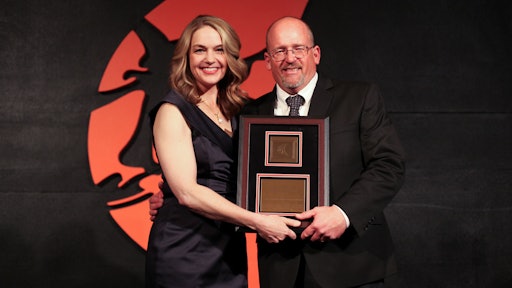 The Charles Machine Works (CMW), Inc., manufacturer of Ditch Witch underground construction equipment, is pleased to announce that Kelly Clark is the winner of the Ditch Witch Superior Service and Support Excellence Award for 2011.
This prestigious award is given annually to recognize the Ditch Witch service manager who promotes the highest level of product support to customers and co-workers.
Clark currently serves as vice president of parts and service for Ditch Witch of Central California. He began his career in the 1980s as a salesman for Horton Equipment Company. After a short time he was moved behind the parts counter, where he found his passion. Surviving mergers, takeovers and sellouts, 16 years later he emerged as the parts and services manager for a large Komatsu equipment dealer.
In 2000, Clark started his career with the Ditch Witch organization and has been there ever since. He is described by his peers as a consummate professional and a devoted husband and father. "Kelly is not the kind of guy to stand up and speak, but he is the guy you call for help on anything," says Mike Anderson, president of Ditch Witch of Central California. Servicing the underground industry, providing equipment and services to find, place, and re-habilitate California's underground infrastructure, this organization has several locations:
Ditch Witch of Central California in Fowler, Cali.; Ditch Witch Bay Area in Newark, Cali.; Ditch Witch Southern California in Corona, Cali.; and Ditch Witch El Cajon in El Cajon, Cali.
Companies in this article