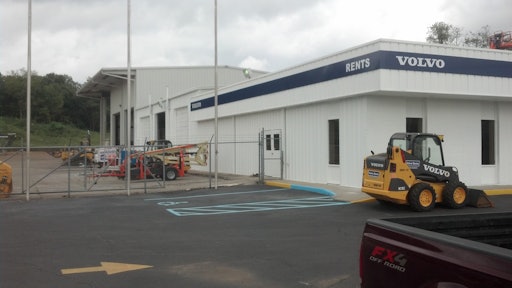 Volvo Rents opened a new rental center in Huntsville, AL, its third in the state, joining existing locations in Foley and Mobile.
The decision to open the new office follows what the company says is forecasted growth in the equipment rental industry, as well as projected increase in construction spending in Huntsville.
According to Volvo Rents, recent data from the American Rental Association (ARA) shows that overall North American equipment rental industry revenue is expected to increase at least 6.9 percent to $33.5 billion in 2012. Further, the ARA forecasts annual growth in rental revenue to reach $53.1 billion by 2016.
Another forecast by McGraw Hill Construction says the growth of construction spending in the Greater Huntsville area is projected to total nearly $5.6 billion by the end of 2016. 
"We believe there is tremendous opportunity in the market, and specifically in the state of Alabama," said Mike Crouch, vice president of business development for Volvo Rents. "Our strong brand recognition, coupled with the growing demand for equipment rental, made this decision an easy one and gives us every reason to look to the future with great enthusiasm."
In addition to Volvo Rents' expanding line of Volvo compact equipment – such as backhoe and skid steer loaders, compact wheel loaders, compact excavators and compaction equipment – the rental center carries a comprehensive line of essential equipment and tools for the construction, commercial, industrial and homeowner markets. The focus is on daily, weekly and monthly rentals.
"We understand our industry is a tough one, and we have geared our operations to meet the demands of a hard-hitting, no-nonsense, fiscally responsible client," said Volvo Rents General Manager Greg Moore. "At Volvo Rents, it's not just about renting you equipment, it's about our working together to get the job done."