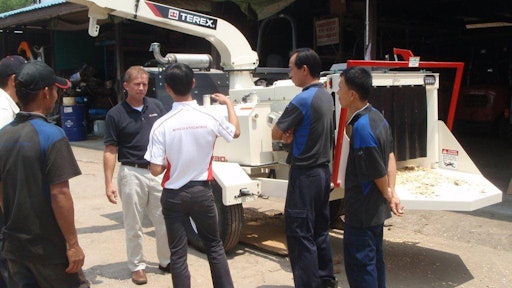 Terex signed its first distributor in Singapore to sell its wood chipper product line, Bonco Enterprise Pte Ltd. Bonco Enterprise already successfully sells Terex Site Dumpers and Terex Finlay crushing and screening equipment.
"This is a completely new market for us and is the first time our products have been sold into Singapore," says Barry DeLau II, Terex Woodsman's general manager. "It offers a significant opportunity for us to penetrate new markets other than North America. Bonco Enterprise was an ideal choice to partner with as they already distribute other Terex products and we look forward to developing our working relationship in the future."
Bonco Enterprise Pte Ltd is one of the leading construction equipment rental companies in  Singapore. With a fleet size of over 200 units, they offer a comprehensive range of industrial, material handling and construction equipment. They have a successful track record in supplying machinery equipment to the landscaping, construction and marine companies in Singapore.
Bob Campbell, regional sales manager, recently visited Singapore to train the sales and service teams from Bonco Enterprise on its first order: two 730 wood chippers. The training program lasted several days and  consisted of sales, technical, service and health and safety training.
"The advantage with the 730 is its ability to process fibrous material such as palm trees," says Wilbert Leong of Bonco Enterprise Pte Ltd. "One of our areas of business is landscaping and this is a great opportunity for us to offer a durable, dependable product to our customers."  
Companies in this article