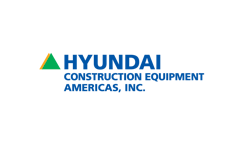 Hyundai Construction Equipment Americas Inc. has appointed Trekker Distributor Inc. to its rapidly growing dealer network. Trekker Distributor Inc. will provide sales and service of Hyundai equipment as an authorized dealer in Florida.
"Trekker's business approach aligns perfectly with Hyundai's philosophy, which is to provide the customer with excellent service and built-to-last products," says Shane Sirmons, national sales and marketing manager. "We are delighted to add an equipment dealer of Trekker's caliber to our dealer network."
Ronald Miller, vice president of Trekker Distributor Inc., adds, "We are proud to offer the Hyundai Construction line to our customers. Hyundai manufactures high-quality, reliable equipment at a competitive price, which is of utmost importance to our customers."
Trekker Distributor Inc. will now carry Hyundai's full line of construction equipment, which includes wheel loaders, crawler and wheeled excavators, mini-excavators and skid-steers. The full stock of Hyundai equipment will be readily available for sale or rent.
Trekker Distributor Inc. sales staff has been fully trained in the application, sales, parts and service of Hyundai Construction Equipment products and offers prompt and professional parts and service support to its customers.
The company is located in Hialeah, FL with multiple locations throughout the state, excluding the panhandle, and will offer sales, parts and service of Hyundai equipment from these locations.
Companies in this article