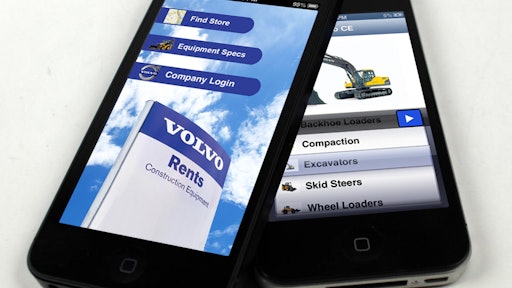 Volvo Rents released the latest version of its free iPhone application on Thursday afternoon, January 10, 2013. By midnight, the app had already picked up nearly 500 downloads.
The original app was released back in July, 2010, and has undergone minor updates since its release; however, none have been as significant as the most recent launch. This newest version, optimized for the new larger screens, caters to the growing consumer demand for simplicity, efficiency, and a one-stop-shop for content and information.
The application offers material and support for customers, vendors, salespeople and employees in a comprehensive and streamlined application which allows them to access product information, new models and specs for equipment, added RSS Feeds, and company data. The content goes as far as including full interactive manuals from different manufacturers, saving time for both customers and employees.
"Being able to access this type of information from a single app will be incredibly beneficial to our customers and employees out at jobsites, limiting the amount of materials they need to bring with them and find access to," said Patrick Farley, manager of sales technology for Volvo Rents. "We hope to continue developing the application and supporting materials to create the ideal tool for users out in the field and those shopping around for equipment detail and comparisons."
Streamlined to offer easier navigation and more comprehensive content, the new Volvo Rents app includes "Instruction" pages to help guide users through the various elements and content included. Additional features users can find in the new application include:
Linking all equipment specifications, images and documentation to content on the

Volvo

Rents website
Specs for Doosan, Magnum & Wacker equipment
New Customer Credit Application, English & Spanish Line Cards and web links
Small user interface changes, enhancements and bug fixes
For Volvo Rents employees, added features include new Model Numbers in the Competitive Comparison Tool (CCT), the ability to email side-by-side specs from CCT, and a nation-wide Rate Report listing.