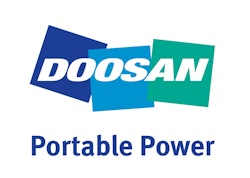 Doosan Portable Power is donating a Doosan vibratory plate compactor and upright rammer to the 2014 American Rental Association (ARA) Foundation Charity Auction. The auction is scheduled for Tuesday, February 11 at 5 p.m. and is held in conjunction with The Rental Show 2014 in Orlando, FL.
The Doosan BX-60WH vibratory plate compactor provides contractors with operator-friendly features that make for more efficient, convenient operation. Key features include a compact vibratory plate design that offers great maneuverability on the jobsite and compaction in confined areas, and fold-over handles that provide ease of storage. The compactor also has the highest centrifugal force in the industry, and the only handle-mounted ratcheting throttle designed for improved control around jobsite obstacles.
The BX-60WH is powered by a rugged Honda four-cycle engine at 3,600 revolutions per minute, and with recoil start engineered to provide years of dependable operation. For the compaction of HMA, the unit is equipped with a standard water sprinkler system and a steel base plate, which outperforms other base plate materials by heating up to optimal temperature faster thus creating a smooth mat finish. The compactor is also fitted with standard vibration-reducing, padded grip handles that are fully adjustable to maximize operator comfort and transport convenience.
The Doosan RX-304H upright rammer is built for the compaction of materials ranging from mixed and cohesive soils to heavy clay, and the unit comes standard with a Honda recoil-start, four-cycle engine. Impact force is applied to the compacted material by a durable wooden foot-reinforced with a heavy steel plate for extended life. The average impact per blow is 3,000 pounds on the RX-304H and the rammer operates at 600–750 blows per minute.
The annual ARA Foundation Charity Auction features new rental equipment and other items donated by The Rental Show exhibitors. The ARA foundation awards educational scholarships and helps individuals in the rental industry who have been impacted by disasters such as hurricanes, floods or fires. The ARA Foundation also provides advice and mentoring by experienced rental professionals.
Companies in this article