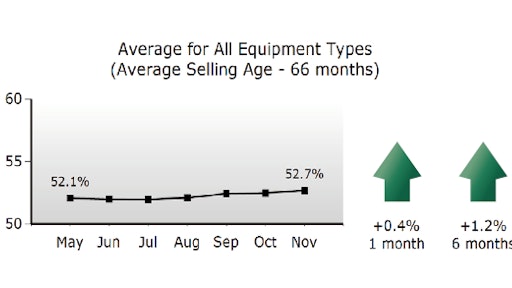 November used equipment values increased 0.4% from October values, according to the December Rouse Rental Report.
For the six months ending Nov. 30, 2013, average orderly liquidation values (OLV) are up 1.2%. Eight out of the 14 category indices recorded one-month value increases ranging from 0.5% for dozers and warehouse/industrial forklifts to 3.4% for rolling compaction equipment.
Also in the report, November auction sales of rental and construction equipment tracked by Rouse averaged 0.7% higher than Rouse October forced liquidation values (FLV). Rouse recorded 1,849 units that sold at 28 separate auction sales conducted across North America. The units represented a combined FLV (as of Oct. 31) of $47.9 million and generated $48.3 million of gross auction proceeds.
In the area of rental rates, the report states that during September, achieved rental rates increased 0.5% on average for the rental companies participating in the Rouse Analytics Rental Metrics Benchmark Service. Rates are up 4.2% relative to September 2012. Rouse Analytics calculates rate change weighted by prior period activity in accordance with the ARA Rental Market Metrics standard.
Companies in this article