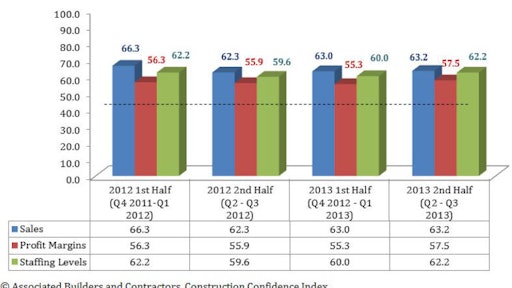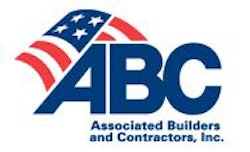 Gains in the Associated Builders and Contractors' (ABC) Construction Confidence Index (CCI) indicate that contractor confidence expanded as 2013 wound to a close, particularly with respect to near-term industry profit margins and staffing levels. The CCI measures construction prospects along three dimensions – revenues, profit margins and hiring. All three indices remained above the threshold value of 50, which indicates growth, and each is up on a year-over-year basis.
Sales expectations rose from 63 to 63.2
Profit margin expectations surged from 55.3 to 57.5
Staffing level intentions grew from 60 to 62.2
"Brutal winter has wrought havoc upon many major markets and has made recent economic data difficult to interpret," said ABC Chief Economist Anirban Basu. "Data regarding retail sales, auto sales, housing starts and nonresidential construction spending has been largely disappointing of late and the last three months have been the worst for job creation since the summer of 2012. Economists have been forced to consider whether recent economic weakness is temporary and attributable to the weather or whether it points to yet another disappointing year.
"The CCI survey results, most of which were gathered when temperatures had already fallen, suggest that much of the near-term weakness observed in nonresidential construction spending is merely temporary," Basu said. "Contractors continue to report lengthening backlog, enhanced pricing power and greater sales momentum. The cold weather, which has persisted into March, has likely substantially suppressed first quarter spending data; however, CCI survey results show that construction spending probably will snap back with the temperatures this spring.
"Contractors will be busier in 2014 but with the economy still expanding at less than 3 percent, the pace of improvement remains gradual and constrained. Despite steady improvement in CCI readings over the past 18 months, sales expectations are below where they were during the first half of 2012. Still, roughly three in five contractors expect some level of sales expansion this year," concluded Basu.
*CCI is a diffusion index. Readings above 50 indicate growth, while readings below 50 are unfavorable. The following chart reflects the distribution of responses to ABC's most recent surveys.
Companies in this article