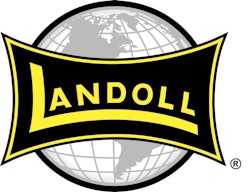 Landoll Corporation is celebrating its 50th anniversary. Don Landoll began his company as a small two-man welding shop repairing farm equipment and rebuilding radiators in 1963. With solid leadership, and focus on solving problems for customers with high-quality products and solutions, Landoll has become one of the most recognized names in the trailer industry.
Landoll's Trailer Division will celebrate in part by partnering with several of its primary component suppliers to offer a specially equipped anniversary series of trailers. The 400, 800 and 900 series are being offered with a high-end option package that includes Air-Weigh Scales, Grote lights and wiring harness, Kartech wireless remote controls and Diamond-Vogel powder paint coatings. Landoll chose these component suppliers because of their high-quality and major customer acceptance in the marketplace.
Landoll Corporation strives to use the most modern technology both in manufacturing and component selection. "We work closely with our primary suppliers to improve our products every day", says Jim Ladner, sales manager for the Trailer Division. Our customers are looking to Landoll for help to solve their specialized transport needs. For many years, Landoll has been recognized as an innovator for the trailer industry. Recently, Don Landoll was inducted into the AEM Association's "HALL OF FAME" for the traveling axle trailer that he patented in 1969. This invention has changed the way that transport companies ground load and unload agriculture, rental, construction and military equipment worldwide.
"We did not hesitate on the selection of suppliers that we chose to use in this Anniversary series. They are the best of the best and that's what our customers expect" says Jim Ladner. Quality comes from the ground up and every aspect of the trailer has to be first-class."Landoll
Companies in this article