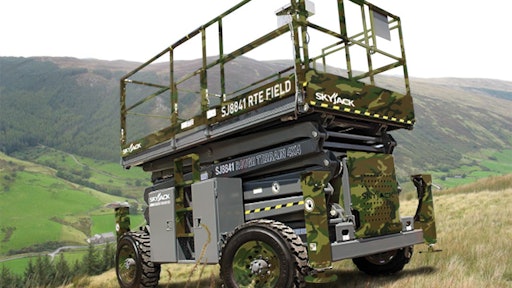 Skyjack announced the delivery of an SJ 8841 RTE with a fun look. This unusual idea came from a chance conversation that a Skyjack design engineer had while on summer vacation at the Loof Lirpa Field Sports resort in Northern Ontario.
"Our main business is taking small groups of customers on hunting or photographic trips," explained Loof Lirpa, the resort owner. "This area is famous for its scenery and its Red Deer population. The normal hunting blind used to get the hunter or photographer off the ground and out of the deer's immediate sight is much like a ladder in construction and has inherent safety risks. In addition, we increasingly have to use four-wheel drive vehicles to take the groups across rough terrain to the most promising sites. Admittedly, the conversation started in a bar, but the idea of a rough terrain vehicle with a large platform that could be raised and accommodate groups of people had some merit. We can reduce the use of the normal four-wheel drive vehicles by using these "Field" Skyjacks. So we ordered two Skyjack 8841 RTE scissor lifts."
The 'E' part of the lift's name indicates it is part of new electric line of lifts that Skyjack introduced at CONEXPO with the debut of the SJ 6832 RTE. Emission-free and silent, the SJ 8841 RTE can tackle the great outdoors with limited environmental impact.
Mechanically, the SJ 8841 RTE Field is standard. It offers a large platform area and heavy duty capacity all in one package. The SJ 8841 RTE utilizes Skyjack's robust and reliable design features for meeting the demands of the most challenging environments. A fuel efficient GM 1.6L Vortec dual-fuel engine powers Skyjack's robust axle-based 4WD system resulting in 30 percent gradeability. The SJ 8841 RTE is drivable at full height, while a capacity of 2,500 lbs provides maximized productivity.
The "Field" name comes from the unique camouflage paint scheme that Skyjack has applied to the lift.
"I know I said the conversation started in a bar but even I thought Skyjack was joking about that color scheme," Lirpa said. "However, it has turned out to be a nice touch and we love it, especially as our hunting season begins on April Fool's day."
Companies in this article