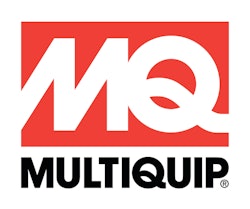 Multiquip Inc. introduces a mobile app enabling contractors, equipment professionals and homeowners to choose the exact mixer to meet their project requirements.
Once installed, the user inputs their basic project requirements: such as the number of blocks to be placed for mortar mixers, or slab dimensions for concrete mixers. The Mixer Sizing App analyzes the data and provides an estimated amount of material needed (in cubic feet and standard bag sizes) for the job and shows available mixer sizes and power options within the MQ/Whiteman and MQ/Essick model ranges.
"The Mixer Sizing App eliminates the guesswork common in choosing the best mixer for a project," stated Juan Quiros, director of product management for Multiquip Inc. "We believe contractors, rental operators and do-it-yourselfers will appreciate its simplicity. Additionally, users with questions have the option of contacting Multiquip directly though the App for assistance."
The Multiquip Mixer Sizing App works on both Apple and Android platforms and is available as a free download in both the App Store and Google Play Store, or visit our website at www.multiquip.com/multiquip/mixer-sizing-app.htm
Along with the Generator Selector app launched last year, this demonstrates Multiquip's commitment to developing interactive Apps that optimize equipment productivity and utilization.