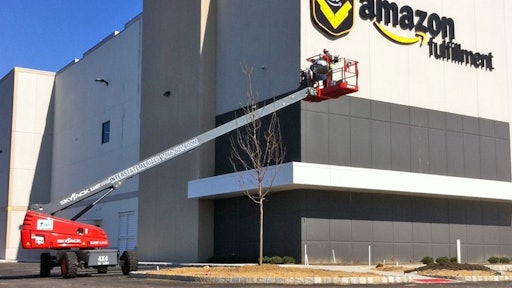 New Jersey Gov. Chris Christie may want to thank Matt Lange of Interstate Aerials if the recent construction project he helped erect benefits the state as much as some experts believe. Interstate Aerials is one of the key rental companies that provided the Skyjack aerial work platforms used to build Amazon's new 1 million ft2 (304,800 m2) warehouse in Robbinsville, New Jersey. When completed, the Amazon warehouse is expected to create an estimated 1,400 new jobs for central New Jersey and contribute more than $100 million in sales tax to the state, according to The Times of Trenton.
"From a square footage point of view, the Amazon facility is probably the biggest construction job right now in northern New Jersey," Lange said. "But I didn't realize how much it may help out the people of New Jersey. If Gov. Christie wants to call to thank me, I'm happy to take that phone call."
Custom Booms Needed
To complete the colossal project, Interstate Aerial used nearly 50 Skyjack machines, of which approximately 20 were purchased just to help build the Amazon warehouse. More than 30 SJ 66T telescopic booms were deployed to handle the bulk of the workload because the SJ 66T can position workers at a working height of 72 ft (21.9 m) from the ground and has a platform capacity of up to 500 lbs (227 kg).
Each boom was customized with a 12,000W three-phase generator so welders could help erect the steel frame needed for the new warehouse. Skyjack also offers other custom options for the telescopic booms, such as a 3,500W single-phase generator option and a glazier kit for glass panel installations.
"It's a really big warehouse," said Pat Quint, Skyjack's territory manager for New Jersey. "I'm glad that we were able to help them get it done without any hang ups. They didn't have any problems at all."
Dependability Stands Out
In addition to Skyjack's telescopic booms, Interstate Aerials used over a dozen other Skyjack models to help build the Amazon warehouse; including the SJ 46AJ articulating boom, which can carry up to 500 lbs (227 kg) to an up-and-over height of 25 ft (7.6 m), and a selection of Skyack's robust rough terrain scissors lifts such as the popular SJ 6832 RT that feature class leading terrainability.
Lange began using Skyjack lifts eight years ago and his preference for choosing them instead of other brands is simple:
"We went with Skyjack because of the dependability of Skyjack machines over any of the other manufacturers," Lange said. "When they're new, they're not supposed to break; and with Skyjack they don't. If I had to buy from any other manufacturer I would have needed to have a full-time mechanic on site. But since buying the Skyjacks I just haven't had that many breakdowns."
Interstate Aerial rents out nearly 75 Skyjack lifts annually, including the powerful ZB 2044 telehandler which can carry 12,000 lbs (3,175 kg) to a lift height of 44 ft (13.67 m) and boasts a maximum capacity of 20,000 lbs.