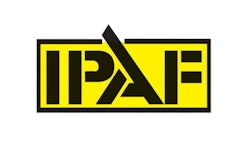 A frank assessment of the common risks found on site and with equipment, and what practical measures could be taken to reduce those risks, was shared by Peter Douglas, UK Operations Director, Nationwide Platforms, and a board member of IPAF, and Mark Keily, UK QHSE Director, Nationwide Platforms, at the IPAF Summit held in early April in Windsor, UK.
Providing a reality check from the field, Mr Douglas and Mr Keily explained how daily challenges such as dealing with batteries or spreader plates of up to 50kg, and operators jumping off equipment due to unsuitable egress points, led their company to work with manufacturers to design out potential problems, for example, through considering manual handling needs and stowage, and considering the location, type and positioning of egress points.
These initiatives to make safe equipment even safer have enabled Nationwide Platforms to reduce accidents by two-thirds, reported Mr Douglas.
Speaking from the audience, Joy Jones, principal inspector, UK Health & Safety Executive (HSE), called on the industry to reinforce safe and good practice: "Our site visits often reveal people making excuses or relying on their risk assessment. Your industry is based is based on safety and needs to be based on experience from the field," she said.
This call to action was renewed by another Summit speaker, Dave Smith, Chair of the UK Contractors Group (UKCG) Health & Safety Leadership Group and COO of Wates Construction, who pointed out that more technologically advanced equipment requires more robust safety measures, as the risk profile changes.
"Plan it right, do it right," said Mr Smith. "The better the plant, the more rigorous we need to be. We estimate that exclusion zones will reduce secondary accidents by 50%. Remember that work at height is a risk. Think of the box for third parties, especially in the public domain."
The next IPAF Summit will be held with the International Awards for Powered Access (IAPAs) on March 26, 2015 in Washington, DC, USA. Details are at www.iapa-summit.info
Presentations from the IPAF Summit 2014 are online at the Resources section of www.ipaf.org