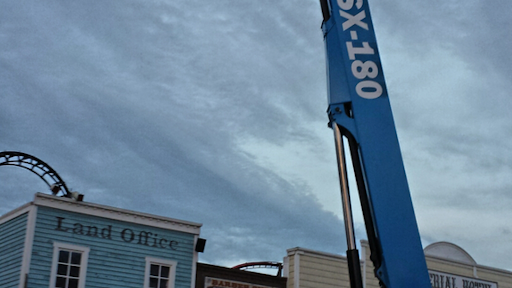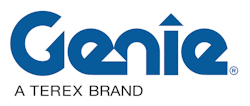 Genie Industries and US Markets Inc. hosted a private party for customers at Six Flags Great America in Gurnee, IL to showcase the unique capabilities of the Genie SX-180 self-propelled telescopic boom lift from Terex Aerial Work Platforms (AWP).
Over 200 guests were invited to see the giant boom lift, with a vertical lift height of 180 feet, on May 6. The plan was to allow guests to get a private lift up in the boom, as well as unlimited rides on the park's famous Raging Bull roller coaster. Brisk winds prevented guests from experiencing the SX-180 in action, but those who attended the event enjoyed the rare opportunity to ride the Raging Bull without crowds and long lines.
US Markets is a national leader in the wholesale aerial work platform rental and sales industry. Based in Elmburst, IL, the company provides re-rental services to dealer and rental yards across the United States and Canada. The first company to take delivery of several SX-180 booms last winter, President Randy Truckenbrodt says he's excited to already have 18 more units on order, giving US Markets the largest fleet of SX-180s in the industry.
Breaking all industry records at 180 feet when it was introduced at the bauma trade show in Munich in April 2013, the new Genie SX-180 self-propelled telescopic boom lift from Terex Aerial Work Platforms (AWP) is in demand for myriad applications in the oil and gas industries, commercial construction, industrial construction and maintenance and general maintenance.
"Terex AWP and US Markets Inc. have enjoyed a long standing relationship built on mutual trust and respect for each other, so it is fitting that we are the first to provide this extraordinary piece of equipment to the re-rental market," says Truckenbrodt.
"We value the relationship with US Markets Inc., and are very pleased that they have chosen to expand their fleet with our new Genie SX-180 lift," said Paul Waller, regional vice president of sales, Terex AWP. 
"We expect the Genie SX-180 boom lift to be well received in the marketplace. There is always a need for more efficient and effective ways to complete larger projects," explains Chad Cochrane, US Markets, Inc. General Manager.
The Genie SX-180 boom lift is designed to safely and quickly lift operators higher than any previously offered self-propelled boom lift. With a 180 foot vertical reach and 80 foot horizontal reach, the SX-180 lift can accommodate extremely difficult to access jobs. "In concert with customer input, our engineers have been able to reach new heights for this next generation of Genie telescopic boom lifts," states Karen Stash, director of product management, Terex AWP.