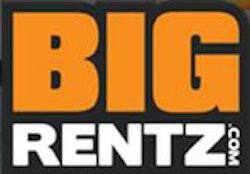 BigRentz.com, a nationwide online platform for construction equipment rentals, is now in over 5,000 locations nationwide. Just one year ago, the company had a network of only 1,000 locations through 60 equipment providers.
"When we started BigRentz.com, we knew that we had the right business model, in the right industry, at the right time," said Dallas Imbimbo, CEO of BigRentz.com. "We also recognized the need to bring on seasoned professionals that could help us reach our lofty goals."
One seasoned veteran who joined BigRentz.com at the start of this year is Robert Gray, vice president. Gray, is the driving force in the company's rapid network expansion. He comments, "We are thrilled to be working with over 700 equipment providers across the country. Our vast network gives our customers access to a tremendous amount of equipment, available almost anywhere imaginable." He attributes the success to aligning BigRentz.com with the equipment suppliers. "We make it easy for our suppliers to get their equipment to end users they would normally miss. We find and secure thousands of smaller elusive customers and consolidate them into one customer. The growth of our network is showing how equipment providers are rapidly capitalizing on the BigRentz model."
According to the company, BigRentz.com is making an impact by connecting a fragmented industry. By using the power of the Internet, BigRentz.com connects customers around the country with access to equipment anywhere, any size, anytime.
BigRentz.com specializes in providing virtually any type of heavy equipment or jobsite service through a nationwide rental network comprising more than 5,000 supplier locations that covers every metropolitan area in the Nation. BigRentz.com provides facility managers, businesses, sporting and concert venues, city planners, and construction professionals the ability to book all of their rentals through a single source.