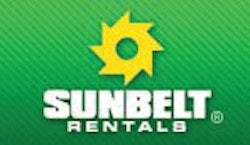 Sunbelt Rentals has acquired Ventura Rental Center (VRC), an equipment rental company based in Ventura, CA which has served the greater Los Angeles rental market with a range of small tools and heavy earthmoving equipment since 1958.
VRC operates two locations in Ventura which have served homeowners and small to mid-sized contractors throughout the years, but in recent years have switched their focus toward heavy contractors and the energy production sector.
Kurt Kenkel, executive vice president of business development at Sunbelt, has told media that Ventura Rental Center is an ideal fit into the company's strategy of acquiring quality, well-run businesses that provide a solid foundation for growth in their respective markets. This latest acquisition allows Sunbelt to expand its presence in the greater Los Angeles market.
"Many independent mid-sized businesses like ours are currently enjoying great successes with solid and growing opportunities," said Ted Cook, VRC's owner and former president of the American Rental Association president. "However, we are also under significant pressures. Joining forces with a rapidly growing equipment rental company represents a great opportunity for the future of Ventura Rental and provides a more comprehensive equipment offering and service network to VRC's valued customers. The whole team looks forward to gaining access to additional equipment and to thriving in the entrepreneurial environment that Sunbelt presents to each store and each team member."
The Ventura Rental Party Center will continue on under the direction of Heidi and Mike Whitcomb.
Cook will remain with the company through a transition period. His son Perry will be profit center manager for the two VRC locations.
In September, Sunbelt announced the acquisition of ECM Energy Services which provides natural gas and oil field equipment rentals and more.