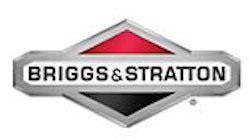 Briggs & Stratton Commercial Power is offering rental store owners a rebate of up to $1,000 on equipment powered by Vanguard engines from 23 participating manufacturers at the American Rental Association's 2015 annual convention, The Rental Show.
The Vanguard ARA Equipment Rebate gives customers who make a qualifying purchase between Feb. 23 and March 15 $100 back for equipment powered by a Vanguard single-cylinder engine. A $200 rebate will be given for equipment powered by a Vanguard V-Twin engine.
"We went to great lengths during the engineering process to ensure Vanguard engines thrive in the most difficult work environments, and no other industry puts equipment through such punishing conditions day in and day out," said Jim Cross, commercial marketing manager for Briggs & Stratton Commercial Power. "By taking advantage of this rebate, owners can purchase equipment at a lower cost that their store needs while still receiving the durable, reliable engine power they expect from Vanguard." 
The Vanguard single-cylinder and V-Twin engines range in power from 5.5 to 28 gross horsepower¹.
Twenty-three manufacturers have equipment eligible for the Vanguard rebate. They include: Alkota, AMT, Barreto, Billy Goat, Diamond Products, Ditch Witch, FNA, Indy Equipment, Karcher, Little Beaver, Mackissic, Maxim, Meyer Machine & Equipment, MK Diamond, Moree Pump, Power Tek/Palmor, Ramsplitter, Rayco, Salsco, Schiller Grounds Care, Stanley Hydraulics, Vermeer, and Wacker Neuson.
For more information about Vanguard engines or the rebate promotion, visit Briggs & Stratton Commercial Power's booth (No. 6623) at The Rental Show, Feb. 23 to 25, in New Orleans. 
Watch this video or visit www.vanguardengines.com/rental to learn how Vanguard engines are specifically engineered to meet the challenging conditions found in the rental industry.