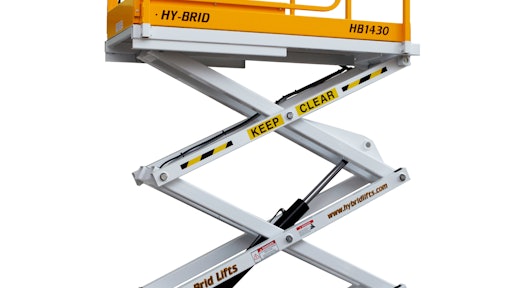 Custom Equipment, Inc. announced that St. Louis-based RG Rents now carries Hy-Brid Lifts low-level scissor lifts. RG Rents is an independent dealer that rents, sells and services scissor lifts, boom lifts and telehandlers. The rental center offers HB-1430 Hy-Brid Lifts, and it maintains customer-owned equipment, a unique service it provides.
Hy-Brid Lifts are a significant portion of RG Rents' inventory due to increasing demand from contractors for lightweight lifts. Their light weight allows contractors to work on top of delicate flooring, such as tile, laminate and raised floors. And their lightweight design means contractors can move the lifts over poured concrete several days sooner than heavier alternatives, resulting in increased productivity. 
"Hy-Brid Lifts comprise about a quarter of our inventory because of this growing demand," said Dan Tumminello, RG Rents chairman. "In addition to their light weight, they also have more lifting capacity than the average lift, so contractors can maximize the amount of equipment and materials they can transport and use at the worksite."
Justin Kissinger, Custom Equipment marketing manager, is excited about the RG Rents partnership because of the owners' long history with Hy-Brid Lifts and providing exceptional customer service. Joe Alonzo, Henrique Tavares and Tumminello opened RG Rents in January 2015 after working several years in the aerial platform industry. For roughly 15 years, Tumminello and Alonzo owned Midwest Aerials' three Missouri locations in St. Louis, Kansas City and Springfield and its Bloomington, Illinois store until selling the company in 2011. Tavares operated Escalar Lifts in the southeastern Brazilian city of Belo Horizonte for more than 20 years and also sold the business in 2011. 
"Dan and Joe rented and sold Hy-Brid Lifts for many years, and I know that, along with Henrique, they will represent Hy-Brid Lifts well," Kissinger said. "They are very knowledgeable on scissor lifts and provide around-the-clock service to ensure RG Rents' customers get fast delivery and service responses."