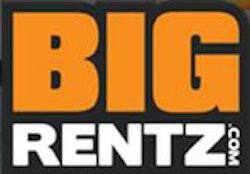 BigRentz (www.bigrentz.com), the nationwide leader of online construction equipment rentals, announced the hiring of industry veteran Franklin McDonald as vice president of operations. McDonald has extensive experience in operations, sales and management, and spent over thirty years with Hertz Equipment Rental Corporation.
BigRentz has innovated America's equipment rental industry by developing the world's most comprehensive online database that connects over 7,000 rental locations, so that customers can always find the items they need, anywhere in the nation.
Dallas Imbimbo, co-founder and CEO of BigRentz, said that the company is building a world-class, high performance management team. "The addition of Frank is further validation that we are shaping the future of this industry," he commented.  "We are attracting top talent because these industry leaders recognize the unsurpassable value of our proprietary tools and methods of delivering a phenomenal customer experience."
McDonald said that he decided to join BigRentz because the company is changing an entire market sector. "I view BigRentz as the same type of company as Apple, Google, Airbnb and Uber," he stated. "Not only have they created new technologies that are changing the landscape of the industry, but they also have an incredible management team, which I am proud to join."
McDonald is a proven leader, and has amassed dozens of awards as a top performer in the industry. As a seasoned industry veteran, he has driven strong operating results throughout his career.
BigRentz has created a nationwide network of equipment rental locations that can provide virtually any type of construction equipment for jobs large and small. With superb customer service, knowledgeable equipment rental advisors, and an unsurpassed inventory, BigRentz has become the preferred choice of companies, contractors and individuals who appreciate the ease of finding what they need with just one call.
"With years of experience working alongside him, I am confident Frank will be a dynamic asset to our leadership team," commentedJoe Dixon, Chief Operating Officer of BigRentz. "People are the core of our business, and Frank is one of the most exceptional people developers in the industry."
For more information about BigRentz, call (855)-999-LIFT (5438), or visit: www.BigRentz.com.