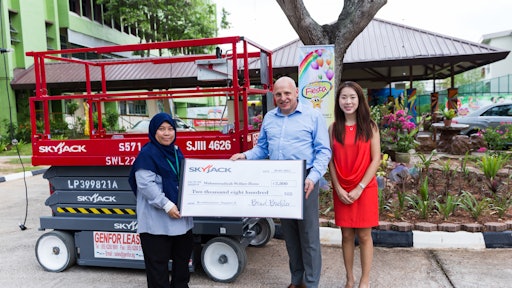 Skyjack has completed its first 30 FOR 30 PARTNERS project in Asia, assisting the Muhammadiyah Welfare Home (MWH) in Singapore for its celebration on May 30. The 30 FOR 30 PARTNERS campaign is part of Skyjack's 30th anniversary celebration and will see Skyjack support 30 worthwhile causes over the course of 2015.
At the MWH event, friends and supporters of the welfare home gathered for a day of performances, food and entertainment to celebrate Singapore's 50th anniversary. Skyjack, working with its Singaporean dealer JPN Trading, supplied an SJIII 4632 electric scissor lift to help with preparations from positioning lighting and signage to and assisting with general cleaning and preparation at the facility. In addition, Skyjack also made a donation to MWH, presenting a check for S$2,800 (US$2100) to Rubiah Abdul Latip, manager of Corporate Communications and Resource Unit at MWH.
Simon Cracknell, Skyjack's business development director for Asia, presented the check and was delighted with the first the 30 FOR 30 PARTNERS program in Asia.
"Asia is a growing market for Skyjack and Singapore in particular is somewhere that's developing well as a business center for us," he said. "So we're delighted that our first 30 FOR 30 PARTNERS project in Asia is in Singapore and even more pleased to support the Muhammadiyah Welfare Home, who do such great work in offering guidance and support to vulnerable young men."
A shelter for empowering the vulnerable
MWH is a humanitarian, nonprofit organization whose mission is to guide, nurture and empower young men whose lives have been disrupted through bereavement or abuse; or those who are no longer able to operate in the normal Singapore school system. It aims to educate and train the young men to become responsible members of the community with positive moral values. Its programs include comprehensive rehabilitation and counselling services.
"All children deserve the opportunity to realize their full potential and become useful and responsible Singaporean citizens," Latip said. "Thanks to Skyjack's 30 FOR 30 PARTNERS project, we've been able to smarten our home for the event in a fast and efficient way, and the staff and boys will be proud to welcome our guests on May 30."
The event is also a way for MWH to express its appreciation to the many volunteers and supporters from the community who has assisted the nonprofit throughout the years.
Founded in 1989 as the Voluntary Welfare Organisation, MWH was among the first few humanitarian nonprofit organization of its kind in Singapore. Since then, the nonprofit has cared for boys from the Malay-Muslim community in Singapore, many from poorer families, who have fallen victim to family abuse or poverty, as well as those whose behavior is beyond parental control. For the past 26 years, MWH has housed more than 900 children aged between 10 and 18. In collaboration with social agencies and the Singaporean government's Ministry of Social and Family Development, MWH has helped 47% of those boys re-integrate into the normal Singapore school system.
Supporting Skyjack's 30 FOR 30 PARTNERS campaign in Singapore is JPN Industrial Trading, the company's official representative in the country. Cindy Casey Lim, business development director at JPN, was among those who attended MWH to see the Skyjack platform at work. JPN was appointed as a Skyjack dealer in December 2013, and the company covers the sale, rental and re-conditioning of construction equipment. The company made a donation of lightening equipment with a value of S$1500 (US$1128).
"We are honored to be part of Skyjack 30 FOR 30 PARTNERS charity campaign," Lim said.
Skyjack launched its 30 FOR 30 PARTNERS program at The Rental Show in the United States in February, as part of its 30th anniversary celebrations. The company has pledged to support 30 worthwhile projects world-wide that could benefit from the use of a Skyjack aerial work access platform. Skyjack is partnering with its local dealers to supply the machines and the company is offering up to S$3323 (US$2,500) for each project.