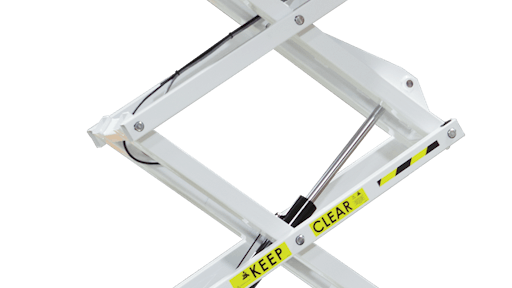 Custom Equipment Inc. announces that Ohio-based ALL Aerials, a division of ALL Family of Companies, will rent, sell and service HB-1030 and HB-1430 Hy-Brid Lifts. This expands the availability of low-level scissor lifts for contractors requiring lightweight and safe equipment to tackle a wide range of indoor applications, including electrical, drywall and HVAC installation. 
"We're excited to include Custom Equipment's Hy-Brid Lifts as part of our diverse fleet that supports many different maintenance and construction jobs," said Kris Kasparek, general manager of ALL's aerial division. "And Custom Equipment is an ideal partner because of our shared values on equipment safety and top-notch service for customers." 
Hy-Brid Lifts also are ideal for ALL Aerials because the lifts' weights meet a growing demand from Midwest contractors for lighter lift options. Custom Equipment uses engineering software to optimize the amount of heavy-duty steel needed in manufacturing Hy-Brid Lifts, which contributes to wheel loads as light as 62.7 psi. That minimized weight allows operators to maneuver over delicate flooring, such as tile, laminate and raised flooring, with minimal risk of inflicting damage. Contractors can even access freshly poured concrete sooner than with heavier lifts on the market, resulting in maximum efficiency on projects.
"Hy-Brid Lifts are the solution we've been looking for: lightweight lifts rated for two workers for maximum worksite productivity," Kasparek said. "These lifts fit the light weight requirement for many jobsites and that opens the door for us to offer equipment to contractors for those types of jobs." 
Hy-Brid Lifts' designs offer one of the lowest entry heights in the industry — just 20 inches. This not only reduces the fatigue and knee strain associated with climbing on and off the lift, but also nearly eliminates potential falls, which can occur when operators load and unload heavy tools and supplies. The HB-1030 and HB-1430 each feature a full-swing gate that allow users to step up and onto the platform eliminating the need to duck under bars or chains, reducing neck or back strain injuries. With these two models, users have lift capacities up to 750 pounds, which is as much as 50 percent more than competitive lifts. Users can easily load heavy, awkward materials, such as drywall and lumber for framing, by simply walking up and onto the platform instead of lifting the materials up and over a bar or chain. The slide-out extension adds 30 inches of working space for the operator and tools. 
Dan Schneider, Custom Equipment's North American sales manager, said he looks forward to the new partnership because of ALL Aerials' market understanding and excellent customer service. 
"ALL Aerials is part of a family-owned company, just like Custom Equipment, and they take customer service very seriously," Schneider said. "They are skilled in pairing the right lift or crane with the right job, and we know they'll do well with this new lineup to support their customers. And we're thrilled to expand further into this region while supporting their dealer needs."