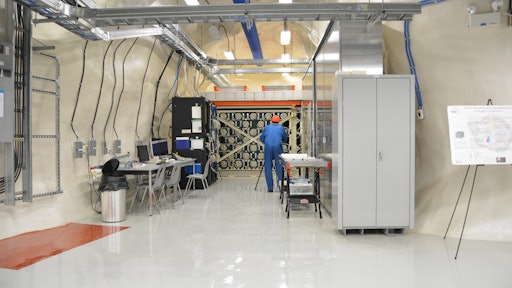 Two scissor lifts from Skyjack are working at a unique location – the deepest clean laboratory in the world. Located in Ontario, Canada, the SNOLAB laboratory is 1.24 miles (2 km) underground, which is equivalent to four and a half Empire State Buildings stacked top to bottom.
SNOLAB is situated so deep underground to prevent cosmic radiation from reaching the labs. In the location at Vale Creighton Mine, in Sudbury, scientists perform experiments on dark matter, neutrinos, low-background counting and genomics. The lab opened in 2012 and construction on new experiment sites is set to continue through 2017. Since 2013, two SJIII 3219 electric scissor lifts have been helping with construction of new specialized experiments.
A difficult commute
Getting the machines down to the SNOLAB was a difficult process. Beyond the transportation, the environment must also be extremely clean to conduct the experiments – this means the scissor lifts must also be squeaky clean.
"Even though one of the Skyjacks we supplied was brand new, both machines had to be completely scrubbed down before they were brought underground," Campeau said. "When they arrived on site, the machines had to be transported through the 2-kilometer drift by stone-boat, which is a large piece of steel the machines were pulled on. Once the Skyjacks arrived at the lab, they had to be scrubbed down yet again to remove any dust."
With a working height of 24 ft (7.6m), weight capacity of 550 lbs (249 kg) and 25% gradability, the SJIII 3219 electric scissor lifts are ideal for versatile applications. The lifts also features 3-ft rollout extension decks and steel swing-out component trays to provide unrestricted maintenance access. Like all Skyjack equipment, the SJIII 3219 lifts are designed around the company's Simply Reliable philosophy. Troubleshooting and maintenance is made easy through the use of the company's color-coded and numbered wiring system – SKYCODED. Repairs are also cost effective due to the use of "off the shelf" components as opposed to custom designs. Plus using a relay-based control system allows Skyjack AWPs to operate using a simplified system with fewer and less expensive components, which means less maintenance and lower costs. These are all crucial considering the remote location of the SNOLAB.
Exceptional service
North Rock Rentals' expert mechanics provide yearly checkups on the SJIII 3219s to ensure they continue to work well and don't have to repeat the trip back up and down the mine.
It's not just the machines that need to be spotless – the mechanics also have to go through a cleanliness process, which includes showering before entering the lab, when they arrive on site to provide maintenance and checkups. In addition, the mechanics are also required to have special mine safety training to visit SNOLAB.
"Typically when aerial work platforms are working underground the life expectancy is cut in half," Campeau said. "Due to the pristine environment of SNOLAB and the quality of Skyjack machines, the scissors are still in great condition."