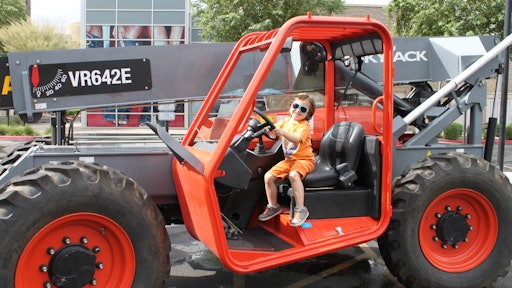 Skyjack recently donated a telehandler for a fun-filled day in Arizona at City of Glendale Parks, Recreation and Neighborhood Services' Touch a Truck event.

"Thanks to Skyjack's participation, this was the first year the Touch a Truck event featured lift equipment," said April Nelson, recreation programmer at The City of Glendale Parks & Recreation. "We are constantly looking for ways to enhance the event each year and are grateful for Skyjack's participation doing just that."

The 13th annual Touch a Truck event attracted a record-setting 7,000 attendees and showcased more than 60 pieces of equipment from 35 exhibitors. Held at Westgate Entertainment Center in Glendale, the event featured large exhibits and activities with both industrial and commercial vehicles and equipment. Participants were able to touch the vehicles, interact with drivers and operators and even explore the inside of the various large vehicles.

Skyjack donated a VR642E telehandler for the day-long event as a part of its 30 FOR 30 PARTNERS campaign, which celebrates the company's 30th anniversary in business.

"This community event that encourages families to get outside and get firsthand information on construction, industrial and emergency equipment, was a fun and educational event," said Dave Lillquist of Skyjack. "It fits perfectly with our 30 FOR 30 PARTNERS campaign, which gives back and supports the communities that have helped Skyjack grow successfully over the past 30 years."

Hosted annually, the Touch a Truck event is part of the City of Glendale Parks, Recreation and Neighborhood Services' effort to engage residents and visitors in diverse opportunities to live, invest and play in the community.

Families and guests of all ages were encouraged to explore the telehandler, with long lines of children awaiting their turn to sit in the 8 ft 6 in wide telehandler. Skyjack also gave away metal key chains of the VR642E telehandler, which was a hit amongst attendees of all ages.
The VR642E telehandler used at the Touch a Truck event was recently sold to Ross Equipment Rentals, a rental partner of Skyjack that provides safe and reliable equipment that is professionally maintained by qualified technicians. They have three Arizona area locations: Phoenix, Tucson and Prescott. The rental company was kind enough to delay the delivery and let Skyjack use the machine at the event. The company also recently purchased a SJ843 TH telehandler from Skyjack's new TH-series telehandler range, which replaces the VR series to offer Tier IV Final telehandlers without the cost and complexity increase that normally accompanies a tier engine change.

While at the Touch a Truck event, children were able to explore the telehandler, which is typically used as a construction telescopic reach fork. From general contractors, framers, to masons, the SJ843 TH telehandler, like the VR642E, is useful in a wide variety of applications. The SJ843 TH has a maximum lift height of 43 ft 4 in (13.2 m) and can lift more than a few excited kids with a maximum lift capacity of 8,000 lbs (3,629 kg). The telehandler also features a 28 ft 7 in (8.71 m) maximum forward reach.

Since February 2015, Skyjack has completed more than a dozen projects as a part of its 30 FOR 30 PARTNERS campaign. From assisting a food bank in the United States, fixing up an orphanage in Singapore, restoring lifeboats for the United Kingdom's Royal National Lifeboat Institution, to helping mount a Beluga whale fossil at an aquarium in Canada.