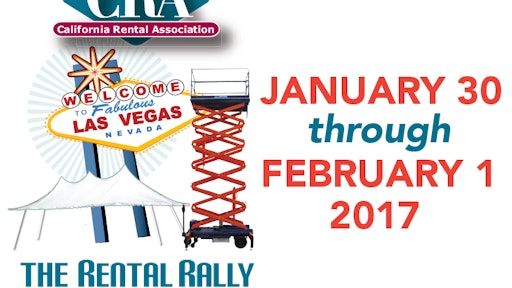 The California Rental Association's 2017 Rental Rally Tradeshow, scheduled for Jan. 30 through Feb. 1, 2017 in Las Vegas is a sellout at 345 booths, making the show twice the size of the CRA's 2015 event.
Attendee pre-register rates extended
With the exhibit hall sold out and the great response from attendees pre-registering for the show, we have decided to share our joy and extend the pre-registration rates for the 2017 Rental Rally Tradeshow*. Register by January 20, 2017, for special advanced rates: $60 per person or $195 per company.
The South Point Casino Hotel & Convention Center Las Vegas, NV, will host the California Rental Association's 2017 tradeshow. With the convenience of having the convention center and hotel on the same property, South Point is a great venue choice for both exhibitors and attendees. For exhibitors, there will be 80,000 square feet of exhibit space featuring well over 300 exhibits, twice the amount of space of the 2015 show, which was also at this location. CRA's opening cocktail party will also be held on the show floor.
Educational and networking events
• AWP operators training certification class - SAIA and Snorkel Extreme of Las Vegas are cosponsoring an all-day class in which attendees can be certified to operate high-reach equipment. The class takes place on Wednesday, February 1, at an Ahern Facility. The cost is $300/person and includes lunch. Transportation will be provided from South Point at 8:30 a.m. and return at 4:30 p.m. SAIA instructors will cover the "Dos and Don'ts for Operating Scissor Lifts and Booms. After lunch, participants will have time for hands-on training, and after passing the final exam, will leave the class with a certificate/wallet card of course completion. Last year's attendees from Aba Daba Rents have found the training to be extremely helpful in providing instructions and procedures to customers when renting scissor lifts and booms. CRA is offering the AWP training for $300 per person if purchased in advance by January 20, 2017. If purchased on-site the cost is $350.
• Seminars coordinated by MATRA - CRA announces an agreement with MATRA (Mid-Atlantic Tent Renters Association Inc.) to conduct seminars specifically for the rental industry. MATRA has been in existence for more than 25 years and is known for its dedication to the promotion of education, safety and product knowledge in the tent rental industry. The speaker for the first session will be Tim McCormick, speaking on how to "Dominate Your Day." McCormick, a 10-year NBA performer, ESPN broadcaster and elite business coach, is thrilled to share his motivational message of growth and improvement, based on the four secrets shared by professional athletes: competitive effort, bounce-back ability, brand excellence and a CEO attitude. This should be a powerful, inspiring and entertaining program.
The second seminar session will feature speaker, Gary Stansberry, who will share his insights on "Key Performance Measures for Your Rental Business." Gary will identify four key performance measures for your rental business, discuss industry standards and show you how to track each measure using a simple set of reports you can generate on a daily, weekly and monthly basis. Gary has over 20 years of mergers and acquisitions experience, totaling over $1 billion in value. Over his career he has analyzed hundreds of rental companies in every segment of the industry.
The all-inclusive seminar/tour package begins with two morning seminars relevant to both the equipment and party rental industries. Participants will have the choice of taking an equipment factory tour at Snorkel Xtreme's newest facility, which includes lunch and a talk by a representative of the SAIA (Scaffold Access Industry Association) on the latest requirements of operating high-reach equipment. Those opting for the party tour will be treated to a gourmet kitchen experience and luncheon at Lupo, a Wolfgang Puck restaurant.
• CRA's opening cocktail party and annual dinner - The opening cocktail party will be held on the show floor, allowing plenty of time for a preview of exhibitor booths and networking time. The annual dinner will once again be held at the Hofbräuhaus, where German cuisine, beer, food and fun are abundant.
More show information/registration forms can be found at www.RentalRally.com
More information for both exhibitors and attendees is available on the tradeshow website, including registration forms, a list of exhibitors, and sponsors.
*Optional events such as the seminar/tour packages, cocktail party and the CRA Hofbräuhaus dinner are not included in exhibitor booth fees or attendee registration fee.