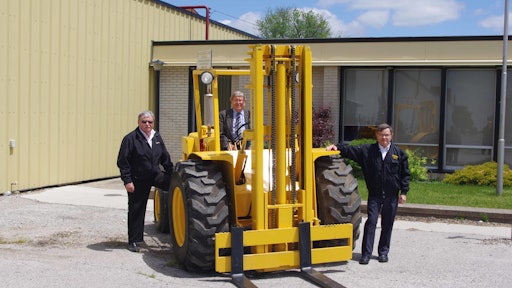 Walter Sellick, founder of Sellick Equipment Limited in Harrow, Ontario, Canada, has died. He was 98.
In 1969, along with sons Howard and David, Sellick converted a Ford 4500 industrial tractor into a 6,000-pound forklift for outdoor use. Development of an integral one-piece frame allowed Sellick Equipment to accommodate various industrial power trains, which lead to brand manufacturing for John Deere and International Harvester.
Sellick served in the Royal Canadian Air Force from 1941-1945 and was an avid pilot and member of several flying organizations, as well as former mayor of Harrow.
He served on the board of directors of the Equipment Manufacturers Institute (EMI), a predecessor organization to Associated Equipment Manufacturers (AEM), and helped pioneer the EMI rough terrain forklift council.
Click here to read Sellick's obituary.