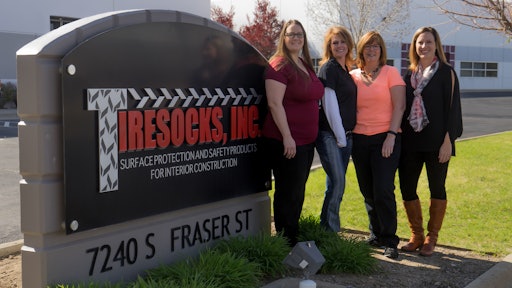 TireSocks Inc., the leader in surface protection and safety products, announced a major personnel reorganization starting with the hiring of Kali Peterson as the new general manager. Concurrently, the company announced the promotion of Patti Reichert to operations manager, hired Kami Nelson as the sales and marketing manager and Pat Kinsch joined the team as administrative and marketing assistant. These positons were created to support Tiresocks' continued growth and facilitate the company's strongest year to date in 2017.
Kali Peterson - Kali comes from an accounting and financial background. Prior to joining Tiresocks full-time in January, Kali spent nine years serving as president of her own firm servicing the accounting needs of dozens of area businesses. Seven of those years included overseeing the accounting for TireSocks. As the GM, Kali will continue to oversee the company's financials in addition to managing day-to-day business operations. Kali enjoys playing sports, reading and travelling with her family.
Patti Reichert - Patti's tenure with TireSocks is nearing a decade. When she was hired in 2009, she was the only employee in the front office and handled all day-to-day phone calls, orders and other administrative work. During these years, Patti has become well known and appreciated by TireSocks' loyal customer base. Patti's new role includes managing daily production and sales operations. She enjoys spending time with her growing family, the outdoors and going camping.
Kami Nelson - As the sales and marketing manager, Kami will be responsible for the day to day oversight of the marketing department. Her first major project will be the creation of the new TireSocks website. She brings 13 years of experience in the graphic design field and a master's degree in web design and development from DU. Kami has provided design and marketing services for Colomer Beauty Brands, Sports Authority, All Packaging, and Excell Marketing. Kami enjoys cooking, camping, and spending time with family, friends, and her three dogs.
Pat Kinsch - Pat is a welcome and cheerful addition to the TireSocks team. She will be supporting marketing, accounts receivable, the order desk and customer service. Pat has 25 years of experience in retail management in the supermarket, office supply and print and ship industries. Pat loves adventure and has braved skydiving, taken flying lessons and hot air-balloon rides.