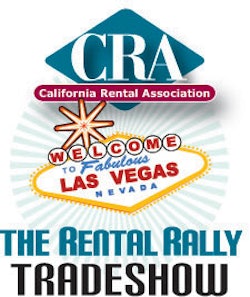 California Rental Association hosted a successful rental rally tradeshow at South Point Casino and Convention Center in Las Vegas January 20-22, 2020. Preliminary numbers show increased attendance from last year's show, with approximately 400 from 28 states as far away as Alaska and Hawaii. The show floor was capped out with 32,800 sq. ft. of booth space featuring 152 Equipment, Party and Service vendors.  
The Monday evening "Opening Event" on the showroom floor was well attended by nearly 500 people. "TopGolf" was a big hit and entertained over 300 attendees on Tuesday evening. There was a bounty of delicious appetizers, barbecue, and libations while we were treated to a great view of the fabulous Las Vegas skyline. There were 20 tees to give everyone to try their luck. The generosity of our TopGolf sponsor: "Hatz Diesel / UQ-Power" helped keep the costs down. Several presentations were made during the evening including the 2019 The James Gartland Memorial Award to Jeff Roberts of City Rentals and the 2019 W.E. "Bud" Loeber Friendship Award to Chris Parker of EPIC. We hope everyone took advantage of this great event and had a terrific time.
The "End of Show" Raffles are always a big hit with attendees and vendors alike.
Snorkel continued its tradition of giving away a push-around Snorkel S3010P scissor lift. Acknowledging that the show skipped a year in 2019, Snorkel owner Don Ahern decided to make up for it by drawing two winners at this years' event! Megan 'Mac' Whittlesey of Ideal Rent-All in Mount Vernon, WA, and Rob Shipley of F&B Rentals in Santa Ana, CA were named the lucky new owners of the two Snorkel S3010P push-around scissor lifts. The RSIF Raffle winners this year were: Vicky Blackwell – Google Home, Kathryn Mitchell – Costco $300 Gift Card, Miranda Thomas – TV and Barb Wyatt – Go Pro. The End of Show winners were: Mike Adams – Ear Pods, Meredith Biasca – Ring, Linda Elder – Apple TV, Emily Lewis – Chrome Book, Bob Marshall – Fitbit Versa, Ryan Ouye – Multiquip Goodies, Robert Pedersen - $200 Costco Gift Card, Barbara Stile – Block & Roll Goodies and Jon Meek – Hockey Tickets from Rexin.
All in all, it seemed the vendors and attendees on the showroom floor were upbeat, positive and looking forward to a successful year in 2020. Thank you to all who attended and participated in the 2020 Rental Rally, making it a huge success. Again, a special THANK YOU to our sponsors, including Gold Level Sponsors: "Alert Management Systems" and "EPIC Insurance Services". Silver Level Sponsors: "Barreto Manufacturing, Inc." and "John Deer / Coastline Equipment". Bronze Level Sponsors: "Michigan Pneumatic Tool" and "Wolf Tools". Tuesday Evening TopGolf Sponsor: "Hatz Diesel / UQ-Power". Exhbit Hall Floor Decal Trail Sponsor: "Point of Rental."
For more information, contact:
CRA, P.O. Box 348420, Sacramento, CA 95834-8420
phone 800.272.7400, email: info@calrental.org
Companies in this article